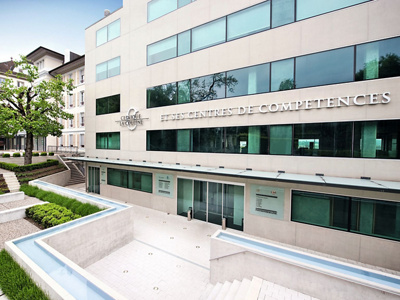 In 1903, a group of Trinitarian Sisters from Avignon had been driven out of France due to religious persecution settled in Geneva. With the help of some local physicians, they founded a home to care for patients of all religious denominations. This led to the creation of the fifteen-room Clinique La Colline. The site selected was the Champel Hill, upon which a large private house was situated near the location where Michel Servetus had been burned alive on Calvin's orders.
In 1904, the first operating room was built. The nuns were trained in medical care by a group of physicians from Geneva. The hospital proved to be such a success that it quickly became apparent that an extension needed to be built to accommodate additional rooms and a new operating room. It subsequently had a capacity for 40 beds. In 1925, a new wing of the hospital was built. From 1950 onwards, the nuns were gradually assisted and eventually replaced by lay staff. 
In 1974, the north wing was extended to accommodate the operating block and radiology department. In 1990, the construction of a day clinic, a physiotherapy centre and a fourth operating theatre began. 
Since that time, all facility upgrades and building extensions have been entirely financed by the Hirslanden Group while great care is taken to preserve the long-standing tradition rooted in the hospital's values.