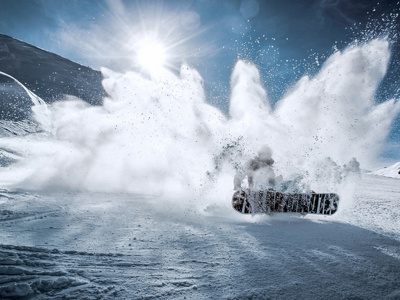 In an emergency…
…every second counts.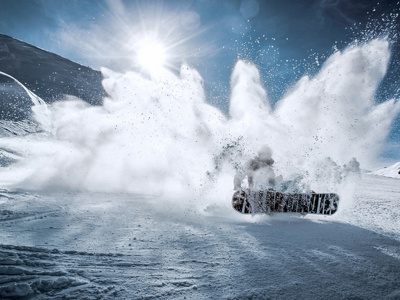 In an emergency…
…a reliable diagnosis is crucial.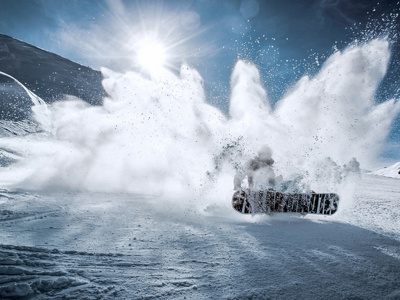 In an emergency…
…competent help is key.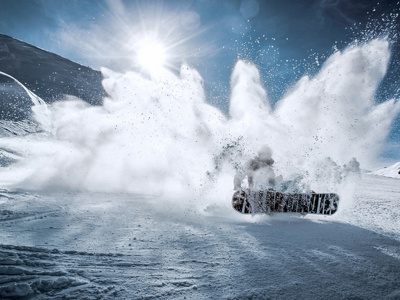 In an emergency…
…fast decisions are needed.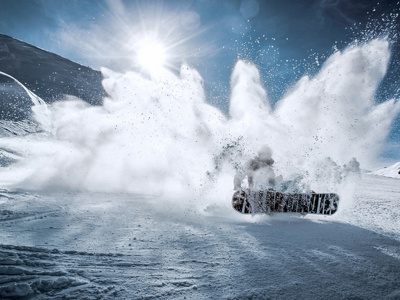 In an emergency…
…every action must be precise.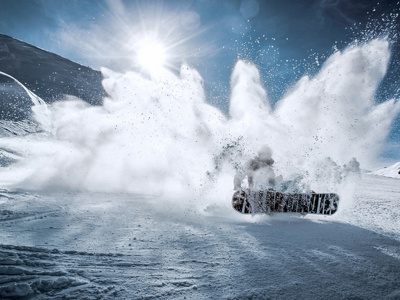 In an emergency…
…state-of-the-art medical technology is used.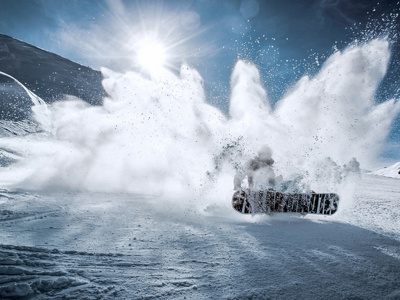 In an emergency…
…family members are also cared for.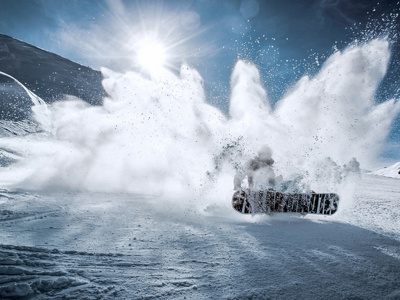 In an emergency…
…an experienced team provides expert assistance.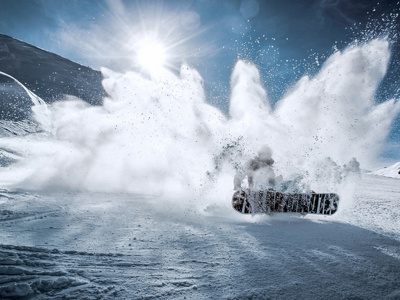 In an emergency…
…specialists provide treatment.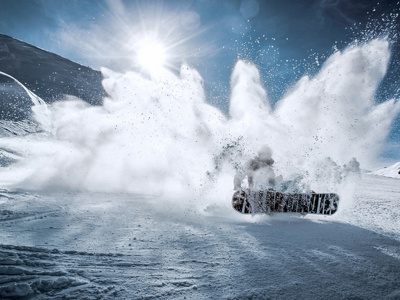 In an emergency…
…a calm approach is required.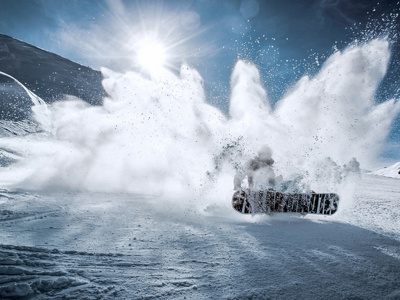 In an emergency…
…the focus is on the patient's individual needs.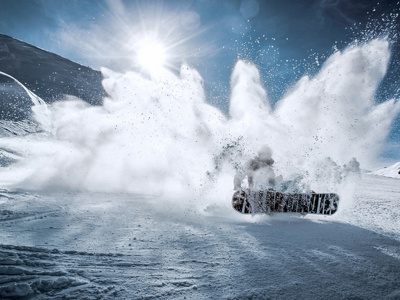 In an emergency…
…exceptional situations are overcome.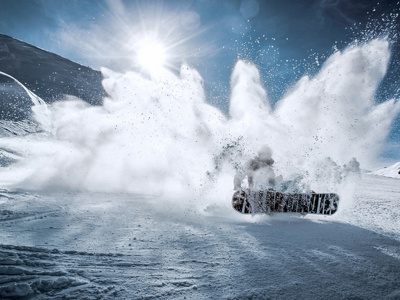 In an emergency…
…a great deal of warm-heartedness is needed.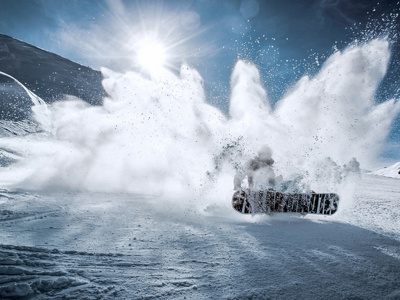 In an emergency…
…people help people.
Winter sport
Winter sport is one of the most popular pastimes in the cold season. More than 2.5 million people venture onto the slopes in Switzerland every year. This results in around 46 000 accidents requiring medical treatment every year. Depending on the type of sport, the main areas affected are the knee, the head and the upper extremities – from the shoulder to the hand.
First aid
on the slopes
Immediate assistance is often required to prevent any subsequent damage.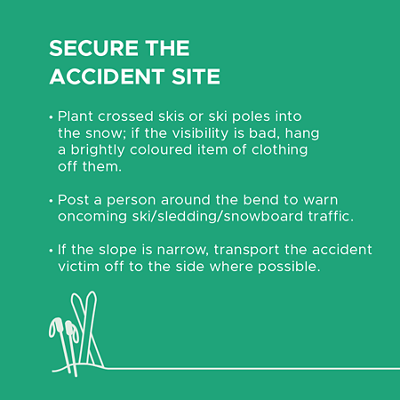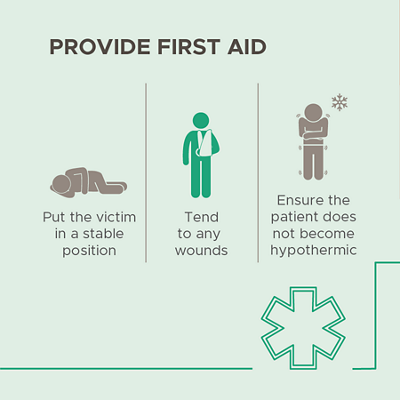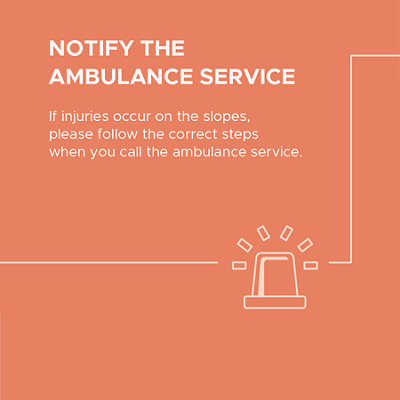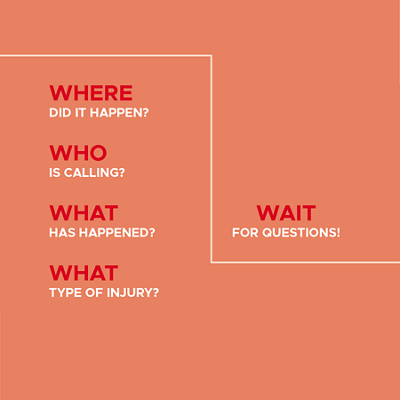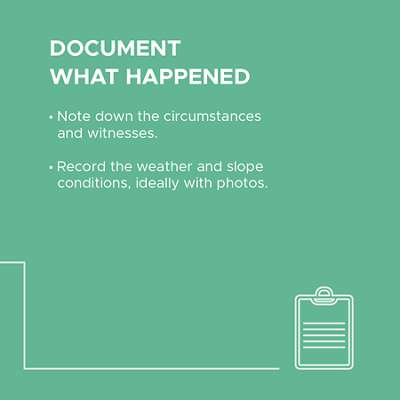 Most common sporting injuries 
Sprains, bruises and strains are the most common winter sport injuries. People do not always get off lightly: every fifth sport injury involves a torn ligament. Most frequent causes: overconfidence, excessive speed or a lack of protective gear.
Common injuries
Pulled hamstring

Hamstrings can partially or fully tear if they are put under too much strain. The calf and the thigh are predominantly affected. A pulled hamstring causes stabbing pain, swelling and bruising.
First aid: Follow the RICE procedure

1
Common injuries
Torn ligament

If you twist a joint, this can tear or sever the surrounding ligaments. The tear causes sudden pain; the joint swells and starts to reddens. Even if the pain subsides quickly, there is still a residual feeling of instability.
First aid: cool and apply a pressure bandage

2
Common injuries
Bruising
Bruising is the most common soft tissue injury: Blunt force trauma results in bruising to the blood and lymphatic vessels, causing internal bleeding and localised inflammation. The shin bone in affected particularly often during winter sport.
First aid: Follow the RICE procedure

3
Common injuries
Fracture

Winter sport causes fractures and severe cartilage damage to the ankle, legs and arms. Falls are the main causes. A fracture causes pain and restricted mobility.
First aid: immobilise, cool, cover open fractures, do not try to set the joint

4
Common injuries
Strain

If a muscle fibre is overstretched, this may cause irritation. If it is strained, the pain gets progressively worse, particularly if the affected muscle is tight. Severe strains can cause bruising.
First aid: follow the RICE procedure first; then apply heat afterwards

5
Common injuries
Concussion
If the head is hit or knocked, the brain can knock against the skull wall. Typical symptoms are headaches, dizziness, nausea with vomiting, unconsciousness (up to 15 minutes) and short memory lapses.
First aid: Sit or lay the affected person down, check whether they are conscious and breathing, and tend to any other possible injuries (e.g. lacerations)

6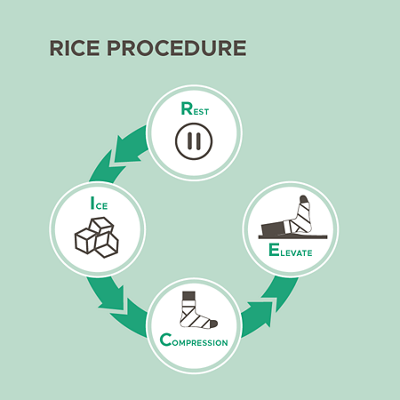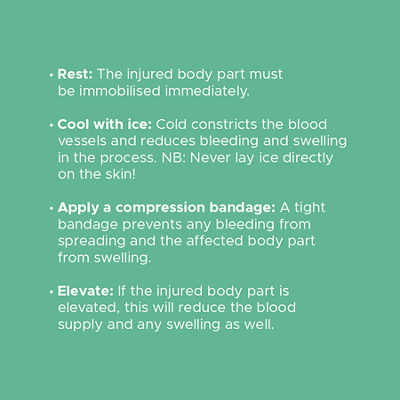 Winter sport – 
how to stay safe
It does not matter whether you use skis, a snowboard or a sled: winter sport is popular. But can you prepare for the season? Do the majority of accidents really take place in the afternoons? And do sport and saunas go together? Let's test your knowledge of winter sport!
Winter sports:
did you know...?

A typical winter sport injury is «ski thumb». It occurs when thumb is overstretched during an accident, causing the tendons to tear.
Every fourth winter-sport-related injury suffered by men affects the shoulder area – in the case of women, it is only 14 %. The reason is that men often take more risks on the slopes.
Almost 80 % of all winter sport injuries are caused while skiing.

The knee is the most vulnerable joint in winter sport. 43 % of all injuries to women are knee-related. In the case of men, it is 26 %.
Every fifth skier travels at more than 80 km/h. At this speed, the impact is equivalent to that of a fall from the eighth story of a building.
Around 70 % of all winter sport accidents happen in the afternoon. 
There are approx. 300 000 sport accidents in Switzerland every year. The majority occur during winter sport, 46 000.
Around 80 % of all snowboarding injuries can be treated in an outpatient clinic.
The Emergency ID card contains your medical information, which may be crucial in an emergency. Download it now!

What you should do in an emergency
Emergencies occur suddenly and unexpectedly. They come at inopportune moments and require timely, correct action. What can you do when something happens? Learn more about how to respond in emergency situations.