The Hirslanden Group in the most important stages:
April 2021
«Together we Test»: Several cantons commission Hirslanden for repetitive testing
The «Together we Test» platform developed by Hirslanden supports the cantons in the implementation of the extended testing strategy of the Federal Office of Public Health in the fight against the COVID-19 pandemic. The online platform makes single source repetitive testing possible for companies and schools. All the processes for the PCR saliva test are covered and the goods and services needed for the tests can be ordered via this platform. A number of partner companies are working together on this platform, acting as intermediaries.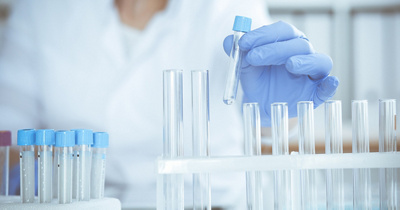 6 April 2021
Opening of Messe Zurich COVID-19 vaccination centre
The Messe Zurich COVID-19 vaccination centre, one of the biggest vaccination centres in Switzerland, starts work. Up to 4 000 people can be vaccinated here every day.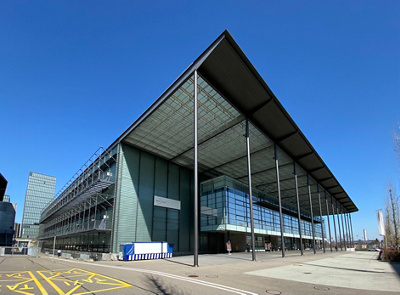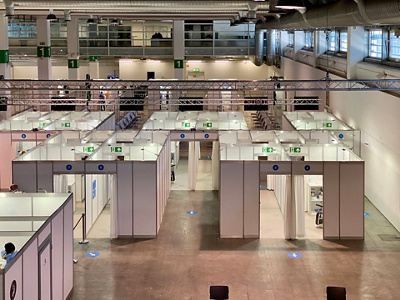 1 April 2021
Dominique Jäggi takes over as Hospital Manager of Klinik Im Park
The management of Klinik im Park changes on 1 April 2012: Dominique Jäggi takes over the management of the hospital.
1 April 2021
The two hospitals in Lausanne to share a Hospital Manager
With effect from 1 April 2021, Hirslanden Lausanne is strengthening its regional network concept and is placing the two hospitals Bois-Cerf and Cecil under one management. The first Manager of the two hospitals will be Jean-Claude Chatelain. He will be followed on 1 September 2021 by Inka Moritz.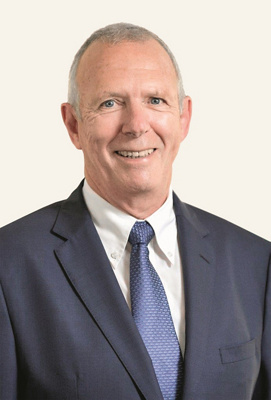 25 February 2021
Development of an outpatient surgical centre in Basel-Landschaft
As part of the cooperation project between Kantonsspital Baselland and the Hirslanden Group, the two organisations plan the construction of a shared outpatient surgical centre in Bruderholz. The intention is for «OPERA Baselland» to commence treatments in 2023.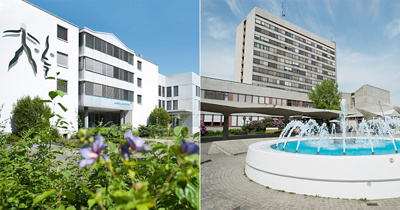 17 February 2021
Spitäler Schaffhausen join forces with Hirslanden for cardiology
Spitäler Schaffhausen join forces with Hirslanden in the field of cardiology, thus enabling the population of the canton of Schaffhausen to benefit from extended, high-quality care close to home as well as an affiliation with the medical network of the Hirslanden Group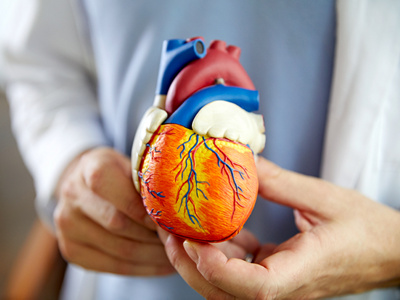 4 February 2021
Successful floating of fixed interest rate bond for CHF 145 million
Hirslanden floats a fixed interest rate bond for CHF 145 million with a coupon of 1.25%. The successful refinancing enables Hirslanden to reduce its interest costs and extend the maturity profile of its commitments.
2 February 2021
Klinik St. Anna invests more than 100 million francs
Klinik St. Anna modernises its infrastructure: as part of the ANNAplus project, the hospital will renovate and replace various parts of its building between now and 2027.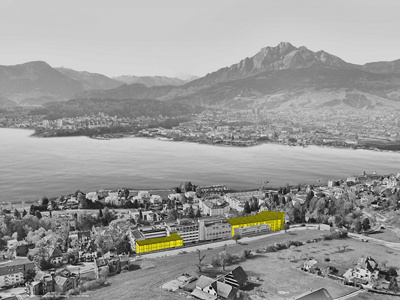 1 February 2021
Opening of two catheterisation theatres
The very latest technical platform which enables cardiologists of Hirslanden Clinique des Grangettes to undertake complex coronary and cardiological procedures while also developing a centre for radiological interventions.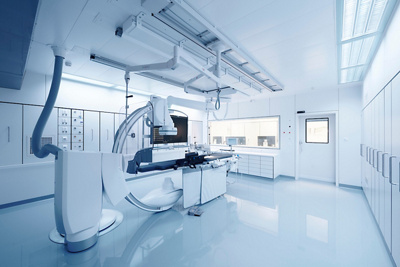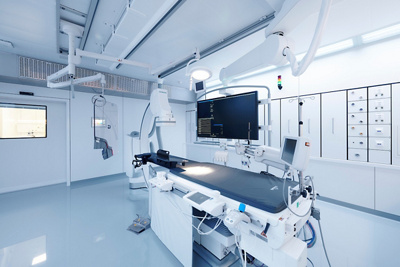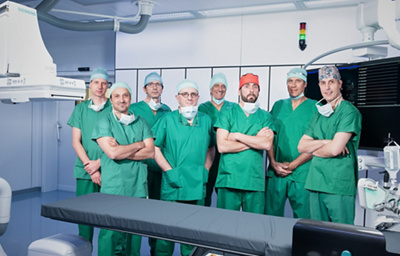 1 February 2021
Stefanie Ruckstuhl appointed Hospital Manager of Klinik Linde
Stefanie Ruckstuhl, previously Manager of Corporate Development & Innovations of the Hirslanden Group, is appointed Hospital Manager of Klinik Linde in Bienne as successor of Dr Serge Reichlin.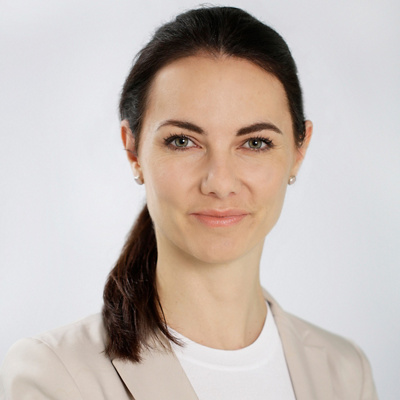 End of January 2021
FMH B training centre in orthopaedic surgery
A recognised training course developed by orthopaedics and sports medicine experts is organised by the partners Hirslanden Clinique La Colline and an independent company (OrthoColline).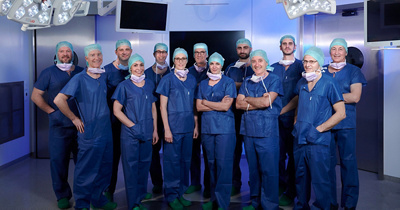 26 January 2021
The cantons of Thurgau and Zurich entrust the operation of vaccination centres to Hirslanden
The second Covid-19 wave hits Switzerland hard. The Hirslanden Group continued its campaign against the pandemic and even extended its involvement. As well as treating COVID-19 patients in its acute and intensive care facilities, the Hirslanden Group designs and operates Covid-19 vaccination centres in several cantons.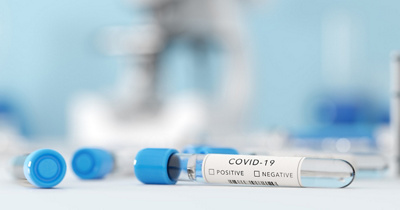 20 January 2021
Steep increase in births at Hirslanden
The Hirslanden maternity centres experience a steep increase in births in 2020. In the ten maternity centres, 480 more babies were born than in the previous year.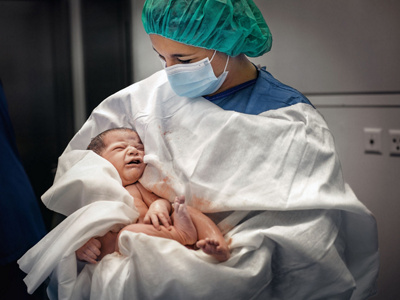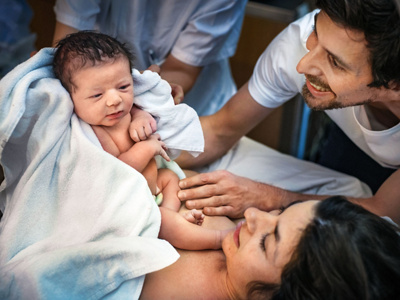 14 January 2021
The German Cancer Society confirms the high quality of treatment at the Hirslanden Tumour Centre in Zurich
The annual recertification audit was successful for the second time. The Oesophageal Cancer Centre and the Leukaemia and Lymphoma Centre were for the first time certified as organ cancer centres.
14 January 2021
Hirslanden Klinik Aarau: in the Swiss «premier league» for the second time
Hirslanden Klinik Aarau ranks in the «premier league» for patient satisfaction in Switzerland. The hospital also has the lowest case costs of all Switzerland's major hospitals.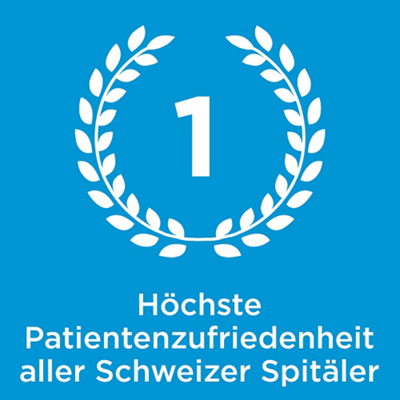 4 January 2021
Optimal care for stroke patients
Recertification of Stroke Center Hirslanden in Zurich
The recertification was awarded with flying colours. The extreme commitment of staff of all professions and the real interdisciplinary cooperation were particularly mentioned.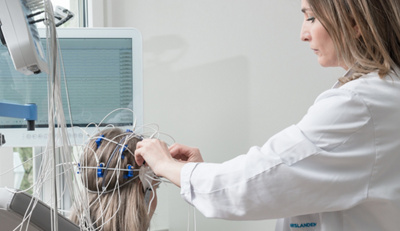 1 January 2021
Cooperation in cardiac medicine
Klinik Im Park and Spital Lachen conclude a ground-breaking multi-site collaboration in cardiac medicine.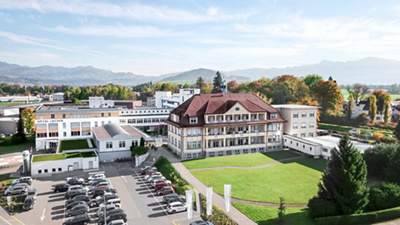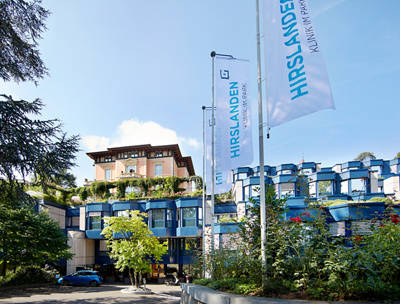 1 January 2021
Changing time: staff receive paid days off
Hirslanden grants all employees up to 4 further days off with pay if they are obliged to change all their clothes for operational reasons. This is an attractive and generous solution when compared with practice in the sector.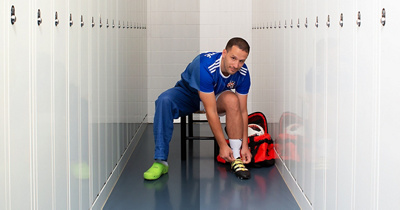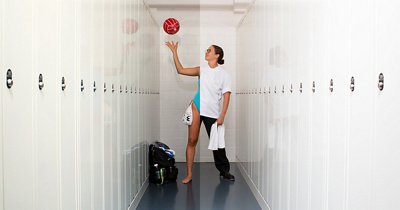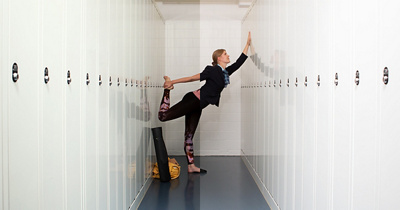 10 December 2020
See-Spital and Hirslanden agree to cooperate
The See-Spital Foundation and the Hirslanden Group have now agreed to join forces in order to further develop high-quality, sustainable local medical care close to home for the inhabitants of the left bank of Lake Zurich.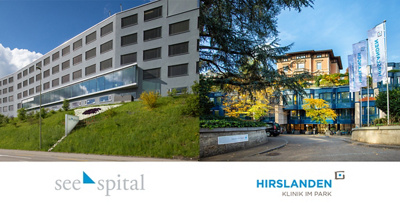 1 November 2020
Dialysis unit with the latest infrastructure
A dialysis unit with the latest generation of equipment opens its doors in Klinik Hirslanden, providing patients with state of the art integrated medical treatment.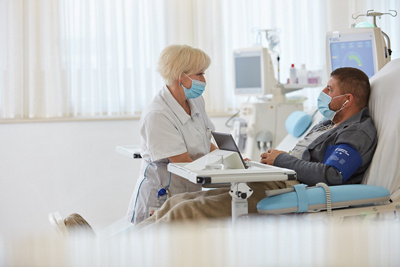 30 November 2020
Oncological rehabilitation in Aargau
The outpatient oncological rehabilitation service helps patients return to their everyday lives. The project is the product of cooperation between Hirslanden Klinik Aargau and the Cancer League.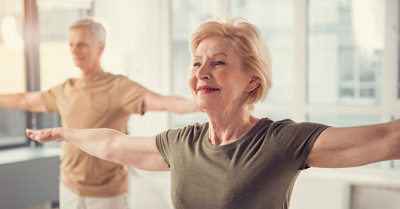 20 November 2020
Necessity is the mother of invention
The annual Doctors' Summit at the KKL takes place completely online this year due to COVID-19. The specially designed interactive Hirslanden platform connects the over 200 participants virtually through exciting presentations and breakout sessions - including networking at the Hirslanden online coffee bar!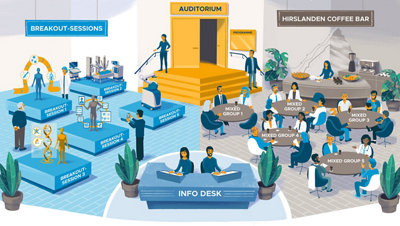 3 November 2020
Bern Bienne Breast Centre receives quality award
The Centre of Expertise of Klinik Linde in Bienne and Bern's Salem-Spital are awarded the Quality Label of the Swiss Cancer League and the German Senology Association.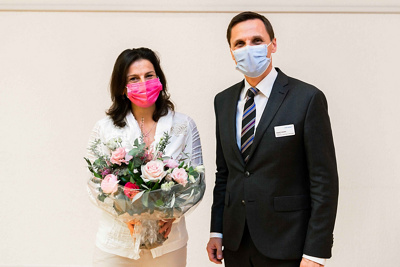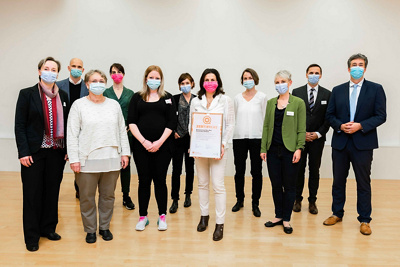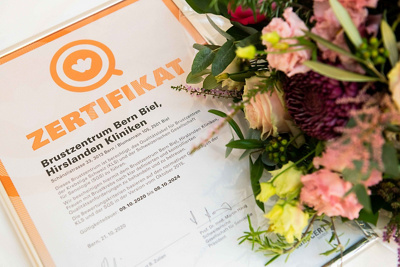 2 November 2020
Opening of intensive care unit at Hirslanden Clinique des Grangettes
New technology platform and highly specialised healthcare team as part of the development of the hospital for round the clock care of patients with complex pathologies.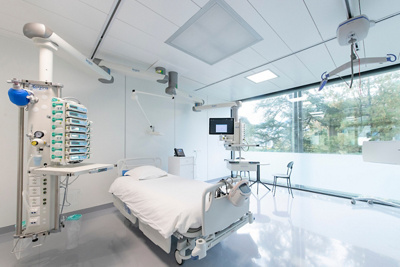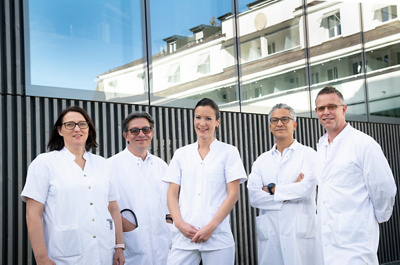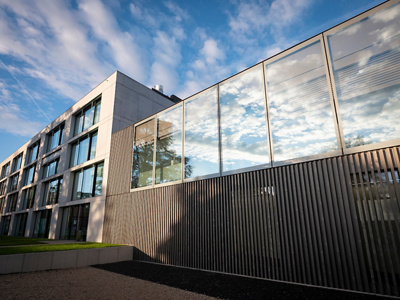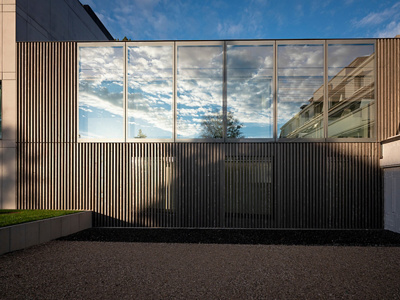 October 2020
Hirslanden COVID-19 test centres
In addition to inpatient and intensive care treatment of patients suffering from COVID, Hirslanden is involved right across Switzerland in operating over ten COVID-19 testing sites in the fight against the corona pandemic.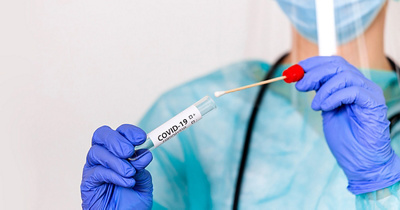 October 2020
October is Breast Cancer Awareness Month
One in every five women in Switzerland with newly diagnosed breast cancer turns to a Hirslanden breast centre. The six Hirslanden breast centres in eight locations meet the stringent quality requirements of the Swiss Cancer League and the German Cancer Society. During the international Breast Cancer Awareness Month, Hirslanden organises a number of activities and events to raise the awareness level of this important subject.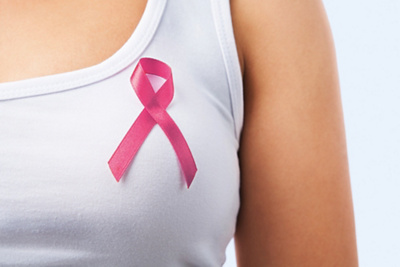 1. Oktober 2020
Opening of Hirslanden Baby outpatient clinic in Aarau
This outpatient clinic supports mothers and mothers-to-be during pregnancy and after childbirth. Services include advice on breastfeeding, acupuncture in preparation for the birth as well as advice and support from a midwife.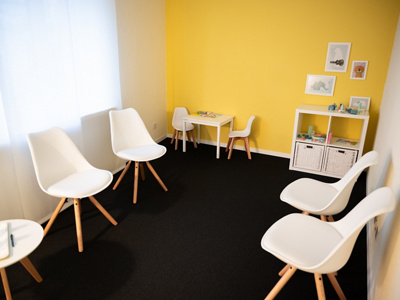 1 October 2020
Opening of preventive and integrative medicine centre
Enhancement of the oncology department at the Breast and Prostate Centre of Hirslanden Clinique des Grangettes brings wide-ranging oncological skills together in the form of preventive traditional medicine and complementary medicine.
1 October 2020
Women's power twice over at the head of Klinik Permanence
Klinik Permanence in the western side of Bern has new joint managers in the form of Dr Julia Beel and Claudine Jungo. This modern job-sharing arrangement at the most senior level of a hospital is a first among all Hirslanden's hospitals in Switzerland.
23 September 2020
The Geneva Innovation Prize 2020 
The prize was awarded to HUG and the Geneva Association of Private Hospitals, Genève-Cliniques, for their exemplary collaboration during the peak of the Covid-19 crisis.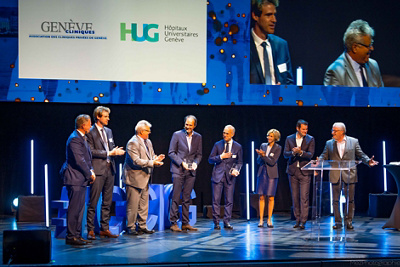 20 September 2020
Klinik Permanence's «patient journey» app
Klinik Permanence launches its «patient journey» app. The app supports patients for a knee or hip replacement after rapid recovery with all relevant information on the treatment before and after their stay in the hospital.
18 September 2020
FC Luzern and St. Anna extend their partnership to 2023
Klinik St. Anna has been the medical partner of Central Switzerland's largest football club since 2007. The partnership is extended to 2023.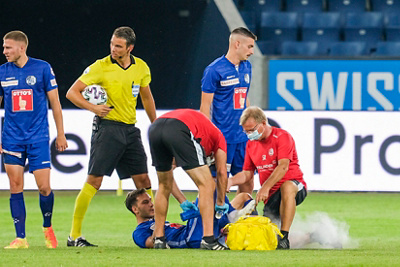 13 September 2020
Swiss Skills: healthcare assistant of Hirslanden Klinik St. Anna wins silver
Kilian Schmid from St. Anna wins a silver medal at the Swiss Professional Skills Championships. This was the first time a man stood on the podium to receive the award for the best healthcare assistant in Switzerland.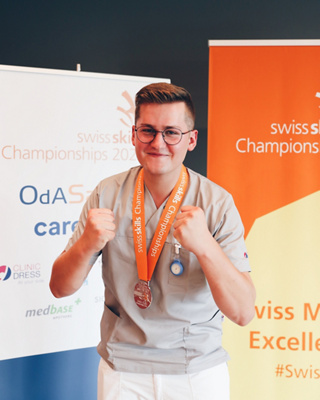 10 September 2020
Spitäler Schaffhausen and Klinik Hirslanden cooperate in the field of urology
Hirslanden and Spitäler Schaffhausen agree to cooperate in the specialist field of urology. The declared goal is to ensure that cantonal performance mandates including highly specialised medical procedures in the Schaffhausen healthcare region are met, thus achieving optimal care for patients.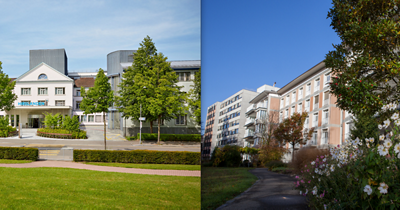 09 September 2020
Opening of new emergency department at AndreasKlinik Cham Zug
The newly renovated emergency department has the latest diagnostic and therapeutic facilities at its disposal. The changes in infrastructure also provide patients with an enhanced standard of comfort and increased privacy.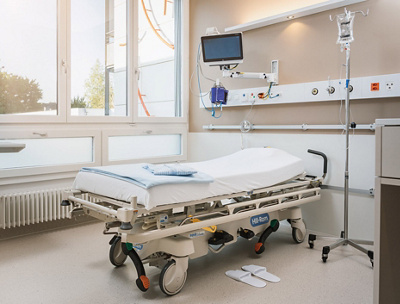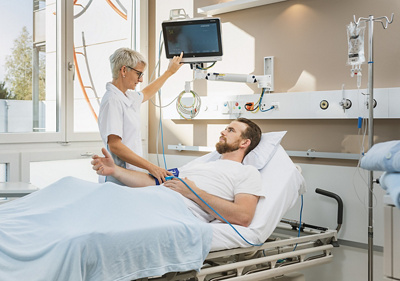 17 August 2020
Do you really know what's inside you?
Klinik Beau-Site launches a campaign to make the citizens of Bern aware of its medical speciality of abdominal surgery. The website specially created for this campaign tells the reader about the various organs in the abdomen.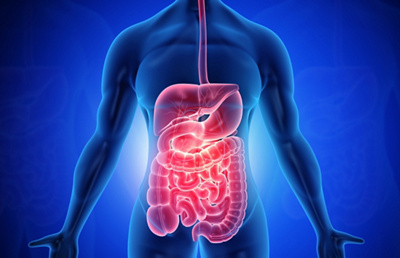 6 July 2020
Hirslanden and Medbase joint venture for outpatient radiology
As part of their cooperation programme, Hirslanden and the Medbase Group agree to the future operation of their outpatient radiology interests as a joint venture which will be managed by Hirslanden.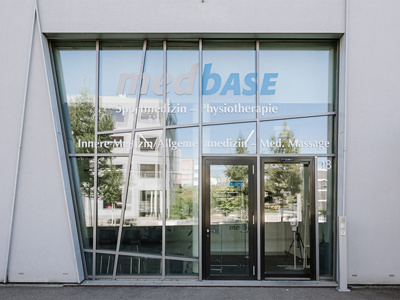 2 July 2020
Opening of OPERA day hospital in St.Gallen
Hirslanden opens the Group's fourth outpatient surgical centre, this time in St.Gallen. Streamlined processes and customised procedures before and after the surgical intervention guarantee efficient, safe and cost-conscious medicine. The centre will therefore both satisfy the individual patient's needs for high-quality outpatient surgery and also meet the socio-political requirement for sustainable and affordable medicine.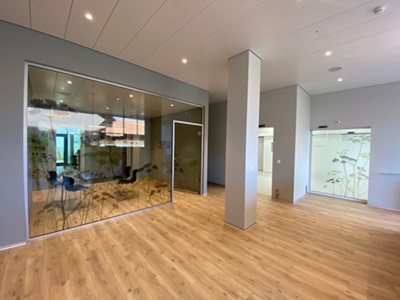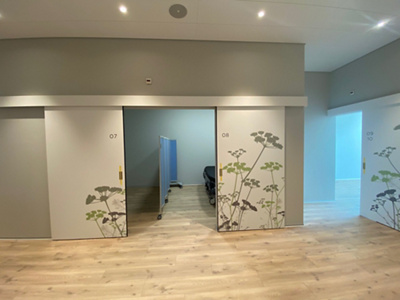 9 June 2020
Klinik Hirslanden opens a neurology clinic
Klinik Hirslanden extends the neurological departments at its Zurich site with the aim of becoming a leading nationwide centre of expertise for patients with neurological conditions.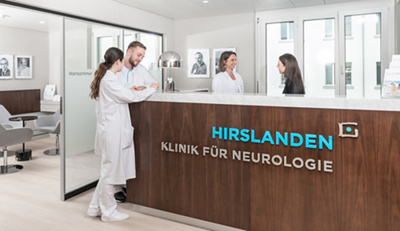 2 June 2020
Hirslanden sells its three outpatient clinics to Medbase
Hirslanden and Medbase are pooling their expertise in outpatient and inpatient care. The purpose of this partnership is the enhancement and optimisation of integrated medical care close to the patient's home. Taking advantage of the expertise of each of the partners, Medbase is responsible for outpatient care close to the patient's home and Hirslanden for acute medical care requiring inpatient treatment or treatment as day patients. The three Hirslanden basic care centres in Schaffhausen, Bern and Düdingen and all staff are therefore transferred to Medcare's outpatient network.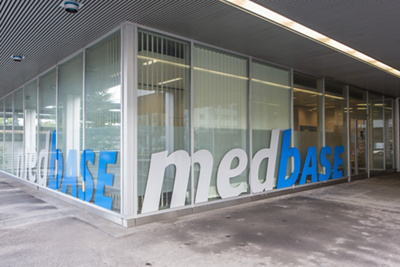 1 June 2020
«ProAktiv» early rehabilitation introduced at Salem-Spital in June 2020
The number of people aged over 70 hospitalised due to acute conditions or for an operation is on the increase. On the other hand today's over 70s are younger, more energetic and more demanding than before. With its FR ProAktiv programme directed by Dr Wolfram Weinrebe, Salem-Spital provides early rehabilitation with a proactive therapy programme so that patients are «back on their feet» earlier.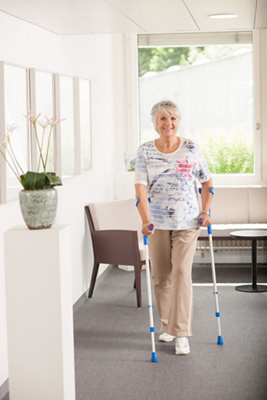 30 & 31 May 2020
Leaving the lockdown together: Hirslanden as the medical partner of OneMillionRun
The aim of OneMillionRun was for runners spread throughout Switzerland to cover one million kilometres in 48 hours. If this ambitious target was to be reached, the contribution from every single participant, whether running, walking or in a wheelchair, was needed. A total of 1 124 737 km was achieved in the last weekend in May! The Hirslanden Group entered a team of its own (Together We Care) and contributed 2,261 km to the overall target.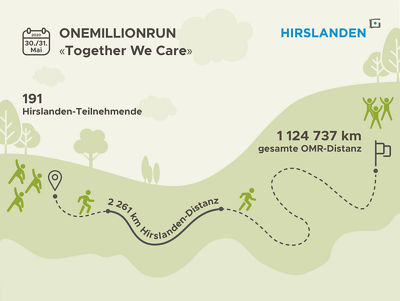 25 May 2020
#zämefüralli: working together for a common cause
The Hirslanden Group and its staff are supporting the fundraising campaign #zämefüralli (I care for you) with CHF 250'000 for people in financial difficulties because of COVID-19.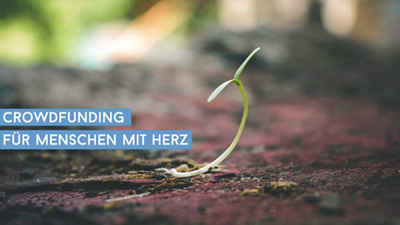 1 March 2020
Daniel Lüscher appointed as new Hospital Manager of Spitalcampus Bern
At the beginning of 2020 the two Hirslanden hospitals in Bern, Beau-Site and Salem-Spital, were merged to form a combined hospital campus. These hospitals are now under the direction of the new Hospital Manager Daniel Lüscher, who took over in March 2020.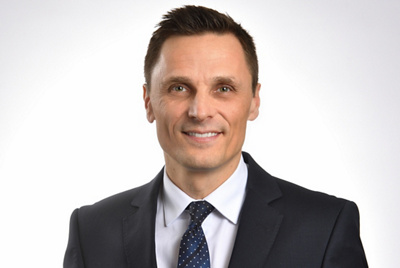 March 2020
COVID-19 pandemic
Hirslanden is closely involved in combating the pandemic in each canton where Hirslanden has a hospital. Firstly, as COVID-A hospitals, which themselves provide COVID-19 patients with intensive care and treatment, such as Klinik Hirslanden in Zurich. Secondly, by cooperating with COVID-19 hospitals, to which Hirslanden's clinics offer help with staffing, materials and infrastructure.

Klinik Linde in Biel, on the other hand, is a COVID-19 hospital treating patients with coronavirus who do not require intensive care. Under this cooperation, COVID-19 patients who do not require intensive care are treated at Spitalzentrum Biel. In return, Klinik Linde offers surgeons at the Spitalzentrum infrastructure facilities so they can undertake urgent surgeries. A successful example of regional coordination benefiting patients.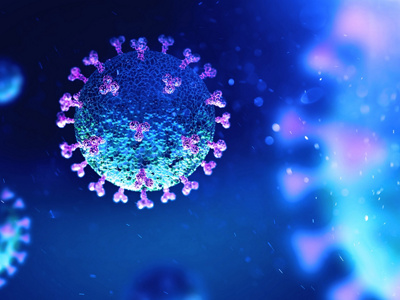 20 February 2020
Culinary Olympics: Silver for Hirslanden Bern
At the IKA/Culinary Olympics, Hirslanden's Culinary Team Bernoise teamed up with chefs from Salem-Spital and Klinik Linde to win Silver.

6–7 February 2020
3rd World Pancreas Forum Bern
The discussions here between more than 300 national and international experts drive innovation and treatment options in pancreatic medicine. Besides numerous panel discussions, the two surgeries streamed live from Hirslanden Klinik Beau-Site were the highlight of the event.

15 January 2020
New stroke clinic at Stroke Center Hirslanden
This new outpatient stroke clinic allows patients and family doctors to quickly obtain a comprehensive diagnosis and in-depth advice on all issues involving strokes.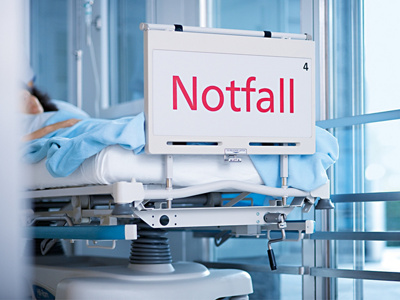 15 January 2020
Cooperation with Medbase
Medbase and Hirslanden are pooling their expertise in  outpatient and inpatient medicine. Their goal is to strengthen integrated inpatient and outpatient medical care for the local population by setting up a network based on partnership. Medbase will focus on outpatient primary medical care and prevention, and Hirslanden on specialist medicine and diagnostics.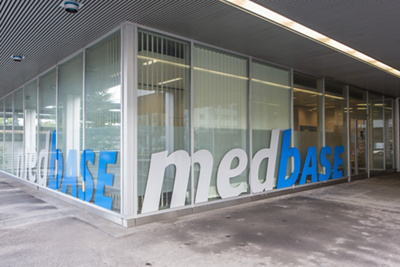 9 January 2020
Takeover of OPERAtionszentrum Zumikon
Hirslanden is taking over the outpatient Operationszentrum in Zumikon, which will allow it to extend its surgical outpatient facilities. Hirslanden is thus meshing its day surgery units into a tailored new organisational entity.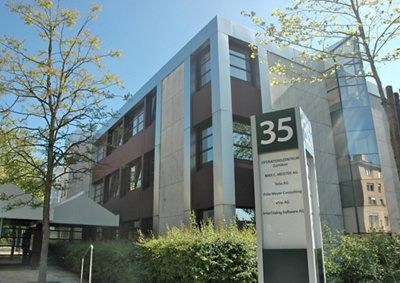 4 January 2020
Angiology at Hirslanden Klinik Aarau on the up
Angiology at Hirslanden Klinik Aarau is on the up, with its successes lauded in regular press coverage. It is an international leader in stent implantation for erectile dysfunction.

5 December 2019
New type of immunotherapy for lymph node cancer
Klinik Hirslanden is the first private listed hospital with the affiliated doctor system and the fourth in Switzerland to offer CAR-T-cell therapy – immunotherapy for patients with two types of lymph node cancer resistant to alternative cancer therapies.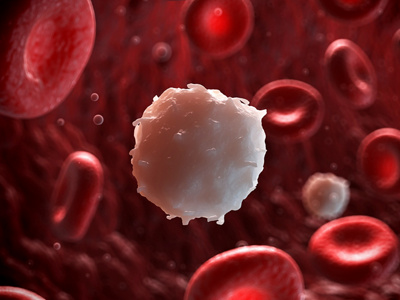 29 November 2019
That was the Hirslanden Doctors' Summit
More than 300 physicians from Hirslanden attended the annual Doctors' Summit. The event focused on the partnership between doctors and hospitals.

11 November 2019
Klinik Stephanshorn turns 40
«Walking forward together» was the motto chosen by Klinik Stephanshorn to celebrate its 40th anniversary. A range of different events attracted visitors of all ages.

30 October 2019
Cooperation between KSBL and Hirslanden
KSBL and the Hirslanden Group have signed a cooperation agreement  to jointly treat disorders of the musculoskeletal system. This public-private partnership lays the basis for a medical network offering in-depth inpatient and outpatient healthcare for geriatric traumatology and musculoskeletal rehabilitation in northwestern Switzerland.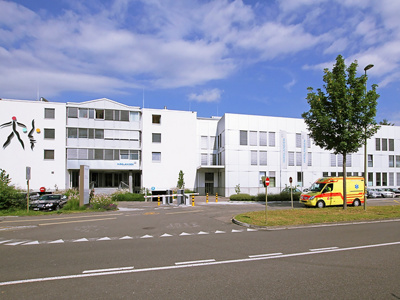 29 October 2019
Certified expertise
The Tumour Centre Hirslanden Zurich was certified as a European Cancer Centre in November 2018, and  completed the maintenance audit held in 2019 with aplomb. The Tumour Centre once again demonstrates its high quality standards in the treatment of cancer patients.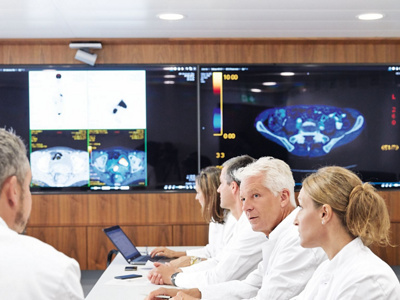 13 October 2019
Regine Lage on board of the «Africa Mercy»
Under the partnership between Mercy Ships and Hirslanden, nurse Regine Lage worked as a volunteer on the hospital ship «Africa Mercy».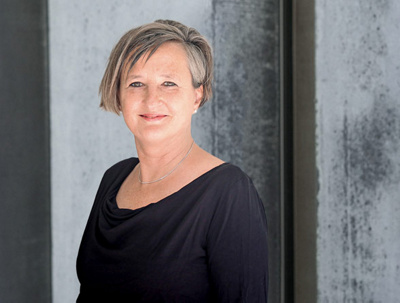 9 October 2019
HUG and Hirslanden join forces
The university hospitals of Geneva (HUG) and the Hirslanden Group will jointly set up and run an outpatient surgical unit in Geneva. This will be the largest centre of its kind in Switzerland.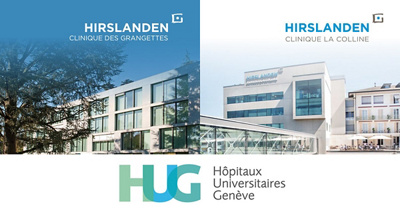 1 October 2019
Cardiology in Aarau: a national leader
Five top cardiologists from Kantonsspital Aarau have joined Hirslanden Klinik Aarau to also make it a leader in cardiology. It has now teamed up with the Kantonsspital Aarau (KSB) to embark on new cooperation.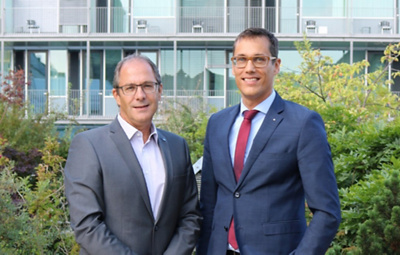 1 October 2019
Establishment of Hirslanden Campus Bern
Klinik Beau-Site and Salem-Spital are moving together to share a medical campus in Bern, with joint management ensuring its coordinated development and expansion.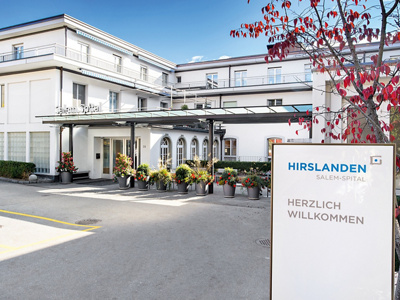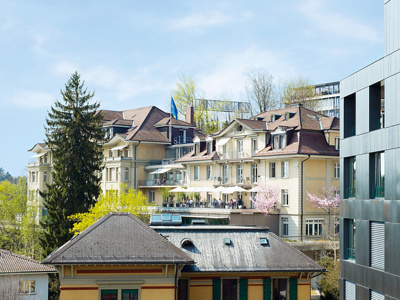 1 October 2019
St. Anna: new skills in vascular surgery
Following the hire of two vascular surgery specialists, Prof. Dr. med. Stefan Ockert and Dr. med. Jan Duwe, Klinik St. Anna now covers the full spectrum of modern vascular medicine, from complex aorta surgery, to procedures on the carotid artery, through to varicose vein treatment.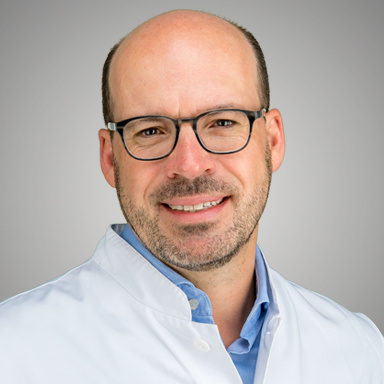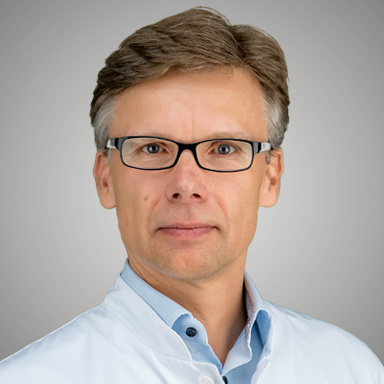 1 October 2019
Sale of Klinik Belair
Hirslanden plans to sell Klinik Belair in Schauffhausen. This decision has been made because Klinik Belair has no direct connection to a Hirslanden central hospital, preventing allocation to a specific healthcare region. After the sale, the Hirslanden Private Hospital Group will comprise 17 hospitals in 10 cantons.


11 September 2019
Integrated care network for eastern Switzerland
Hirslanden Klinik Stephanshorn and Klinik Am Rosenberg offer the people of eastern Switzerland comprehensive medical care for both the outpatient and inpatient sectors.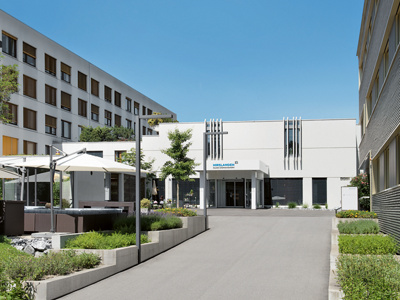 6 August 2019
Autologous blood stem cell transplantation certified
Following the successful JACIE audit, Klinik Hirslanden is now Switzerland's first private listed hospital with the affiliated doctor system to be certified for autologous blood stem cell transplantation. Diseases of the haematopoietic system can now be treated with an effective procedure.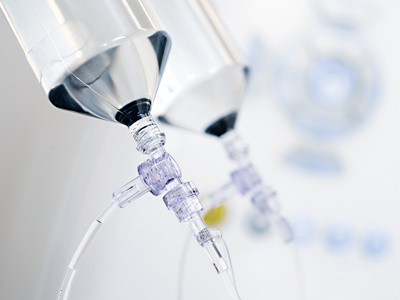 1 August 2019
Inauguration of the Lorze medical centre in Cham
Patients can consult specialists from seven different disciplines at this centre. The laboratory of GEA IVF AG is also the canton's sole provider of IVF services.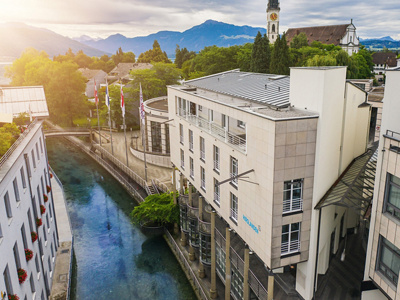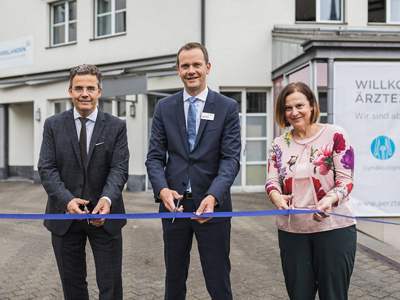 Summer 2019
Cooperation «Brustzentrum Zürichsee»
Breast Centre Im Park and Brustzentrum See-Spital (Kilchberg site) will cooperate as Brustzentrum Zurichsee. This breast clinic is currently undergoing certification by the Swiss Cancer League.

July 2019
Hirslanden is combating food waste
Many Hirslanden hospitals are taking specific measures to combat food wastage.

(only available in German or French)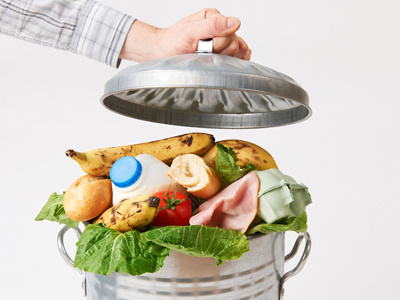 29 May 2019
Huge expansion of the Brustzentrum Stephanshorn
By hiring four new consultants, Hirslanden Klinik Stephanshorn is growing its certified breast clinic significantly, making it the biggest provider of breast cancer treatment in eastern Switzerland.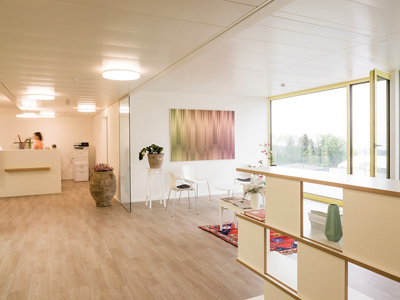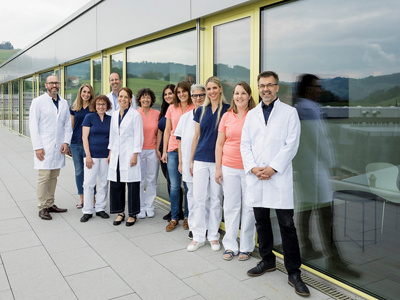 13 May 2019
Sole Aargauer performance mandate for heart surgery
Hirslanden Klinik Aarau has seen off the competition to remain on the 2020 hospital list as the canton's only hospital with a performance mandate for heart surgery.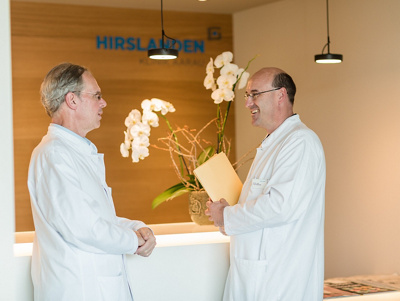 21-22 March 2019
Opening of the Centre for Sports Medicine and Exercise

The Hirslanden Clinique La Colline in Geneva has officially opened its Centre for Sports Medicine and Exercise. The opening marks a move towards patient care improvements based on multi-disciplinary specialist teams and links with other Hirslanden medical centres in Geneva.

14 March 2019
Hirslanden chefs qualify for Culinary Olympics

The kitchen team of Hirslanden's Salem-Spital and Klinik Linde come 2nd in the SWISS SVG Trophy final and qualify for the Culinary Olympics in Stuttgart.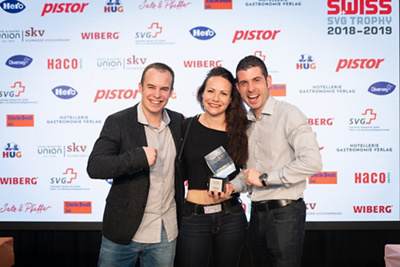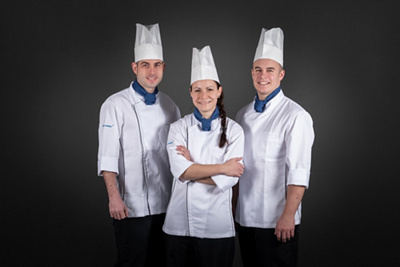 11 February 2019
Hirslanden Préférence for semi-private patients
Along with Hirslanden Privé for privately insured patients, the benefits of each insurance class are outlined in the patient programmes so patients are aware of the further benefits in hospital.


17 January 2019
Integrated medical care: new cooperation in Aargau

The new cooperation between Hirslanden Klinik Aarau and Klinik Barmelweid expands the treatment network to Western Aargau and improves the integrated medical care for patients.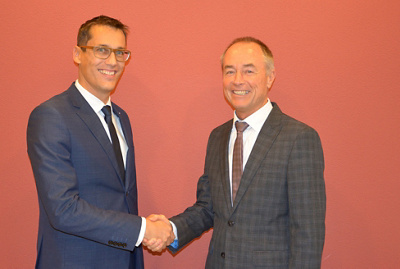 08 January 2019, 07 February 2019
Stroke Centre: recertification and HSM mandate

Hirslanden's highly specialised Stroke Centre is recertified by the Swiss Federation of Clinical Neuro-Societies. The HSM intercantonal decision board also mandates the hospital to treat complex cases.

01 January 2019
Breast cancer treatment in accordance with the latest guidelines

Brustzentrum Im Park is an interdisciplinary centre of expertise where patients suffering from malignant conditions receive comprehensive care and treatment from renowned specialists.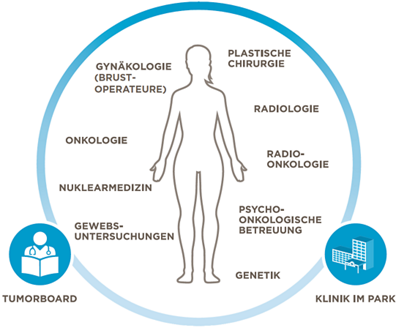 01. Januar 2019
Daniel Liedtke is the new CEO of Hirslanden

Daniel Liedtke succeeds Dr. Ole Wiesinger as CEO of the Hirslanden Private Hospital Group on 1 January 2019.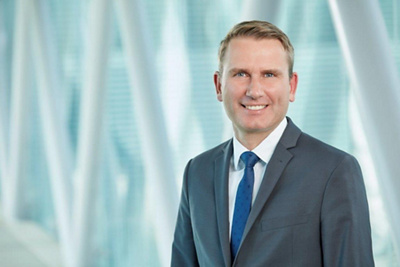 January 2019
The Ozaki technique: autologous aortic valve replacement

Dr Khatchatourov and his team introduced this programme of aortic valve reconstruction in 2016. By the end of 2018, more than 50 cases had been treated at the Clinique Cecil.
Photo: Dr Ozaki Shigeyuki, Dr Gregory Khatchatourov, Mr Quintin Dittmar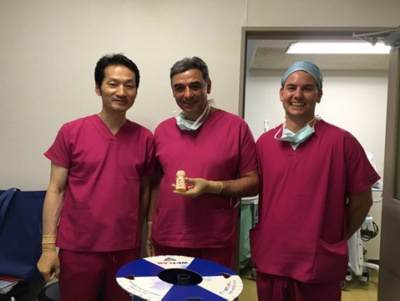 31 December 2018
Global number one

The kitchen team at Klinik Am Rosenberg ranked first in the patient survey of 1,425 hospitals worldwide.

17 December 2018
New centre for sports medicine and physiotherapy

Hirslanden Klinik St. Anna has opened a modern centre for sports medicine and physiotherapy above the rooftops of the city at Lucerne's central train station.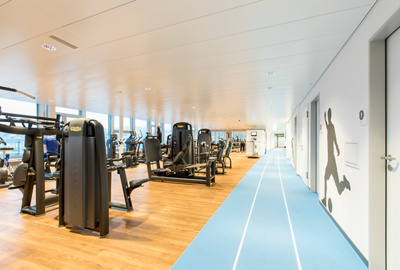 06 December 2018
First certified skull base centre in Switzerland

The CFC Cranio Facial Centre in Aarau is the first Swiss centre to receive GSB certification. Most certified centres in Europe are university hospitals.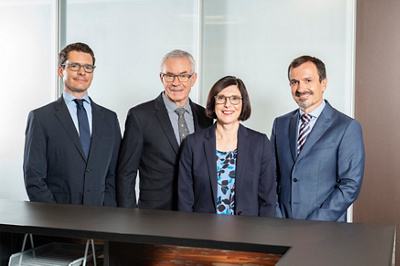 29 November 2018
Opening of the Centre for Erectile Dysfunction

Erectile dysfunction can be an early warning sign of serious health problems. For this reason, Aarau patients receive cross-disciplinary treatment. The Centre is the international leader in stent implantation for erectile dysfunction.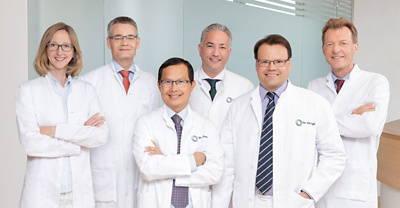 26 November 2018
Tumour centre certification & stem cell transplantation

High oncology standards: German Cancer Society certifies the Hirslanden Tumour Centre as a European Cancer Centre. The hospital also offers autologous blood stem cell transplantation together with the Oncology Centre and Aarau Cantonal Hospital.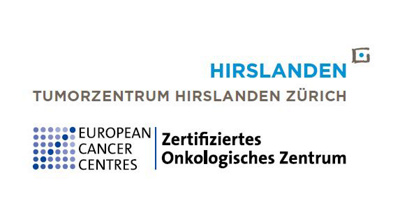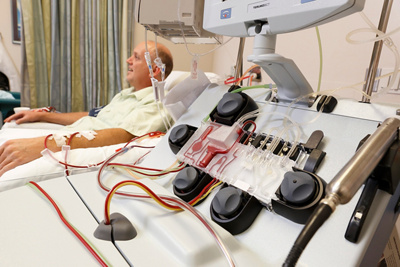 1 November 2018
Hirslanden & Sana Klinik Einkauf cooperation

The cooperation with the German organisation includes the procurement of medical products, medical consumables and capital goods for all hospitals. This radically improves the procurement conditions. 

23 October 2018
Friendly Work Space ® label for Klinik Stephanshorn

Following a successful assessment, Klinik Stephanshorn is the first Hirslanden hospital to be awarded the Friendly Work Space ® quality label by Swiss Health Promotion.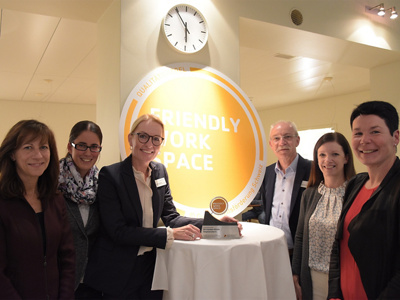 01 October 2018
Modern comfort & security for mothers & newborns

Klinik Im Park has reopened its postnatal ward after three months of renovation. The modern rooms offer a warm atmosphere to give your little one the best possible start in life.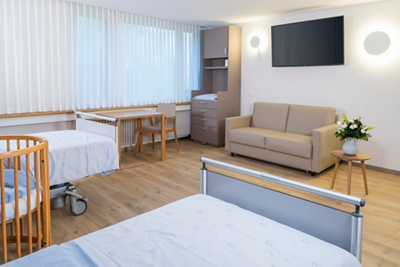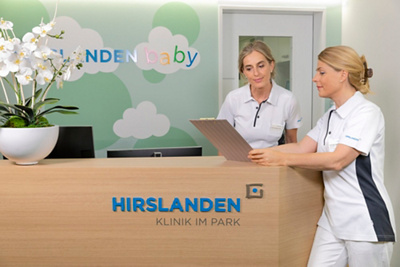 September 2018
The Emergency Centre at Klinik Stephanshorn is open to patients in all insurance classes around the clock, 365 days per year. Thanks to the interdisciplinary collaboration between doctors and other healthcare professionals, you'll receive individualised care and be in constant contact with your assigned specialist.


29 September 2018
Outpatient medical centre opens in Seefeld

Klinik Hirslanden has opened an outpatient medical centre in Seefeld, Zurich. It houses 11 practices and centres with different medical specialties.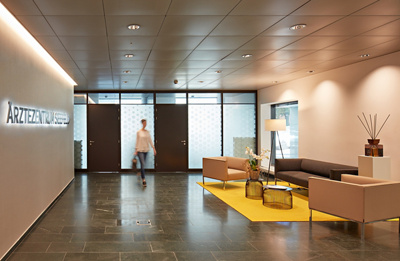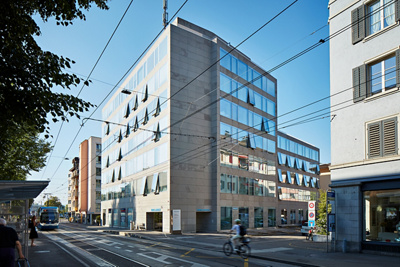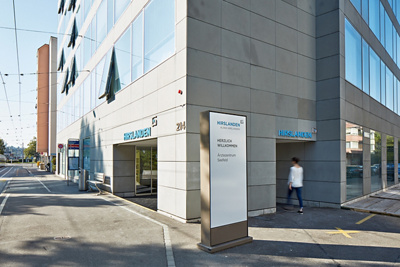 27 September 2018
Opening of the Ouchy Orthopaedic Centre

Working in partnership with the Clinique Bois-Cerf, the Ouchy Orthopaedic Centre provides specialist consultations in orthopaedic and traumatological surgery, physical medicine and rehabilitation as well as sports medicine.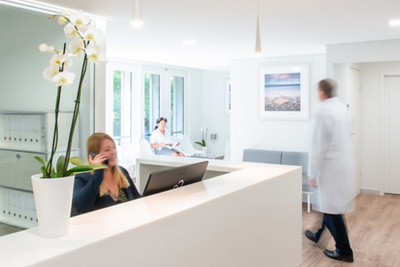 20 September 2018
Hirslanden Lausanne takes first prize at the first Care Quiz 

Nurses from the Clinique Bois-Cerf and Clinique Cecil came first at the Care Olympics in Nyon, where seven hospitals challenged each other in a contest to highlight their skills.
Photo: Nursing staff from the Clinique Bois-Cerf and Clinique Cecil celebrate their victory with Mr Cédric Bossart, Director of the Clinique Bois-Cerf.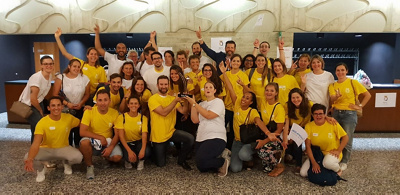 19 September 2018
30 years of Hirslanden Klinik Aarau

Many anniversary activities undertaken by the hospital throughout the year focus on its employees and doctors, e.g. with video clips. The social media competition #MyHirslandenAarau has received some interesting contributions.

04 September 2018
The clinic is merging with the Hirslanden Clinique La Colline and rejoining the Hirslanden Group

The Clinique des Grangettes and the Hirslanden Clinique La Colline have combined forces to form a joint venture. This merger offers patients access to an even wider range of across-the-board medical and therapeutic services.

13 August 2018
Mako robotic-arm assisted surgical technique

Klinik Permanence and Salem-Spital are the first Swiss hospitals to use the Mako robotic-arm assisted surgical technique. This means that artificial joint replacement is now even more exact and precise.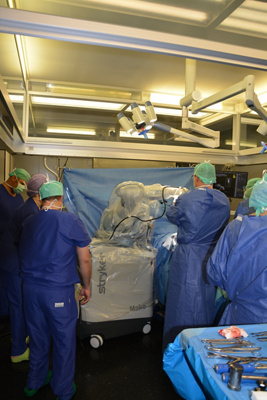 10 August 2018
Intermediate care unit at Klinik Birshof

Patients who need more intensive monitoring after an operation before they can be moved to their rooms are nursed in the Intermediate care unit.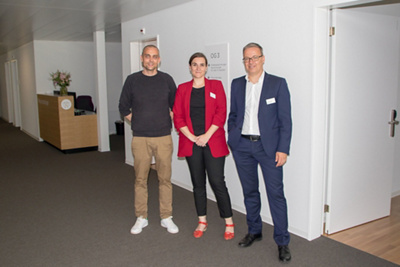 26 July 2018
Breast Centre Aarau Cham Zug certified by the Swiss Cancer League

Breast Centre Aarau Cham Zug receives the Swiss Cancer League's (KLS) quality label. Hirslanden's Klinik Aarau and AndreasKlinik Cham Zug's certified inter-site centre is thus the first of its kind operated by a private hospital in cantons Aargau & Zug.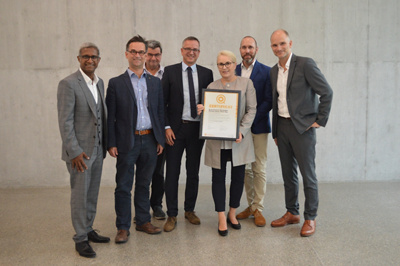 1 July 2018
Ground-breaking collaboration in heart surgery

Insel Group and Hirslanden set up an inter-site cardiac surgery centre of excellence. This is the first-ever Swiss partnership between a university hospital and a private hospital in the same catchment area.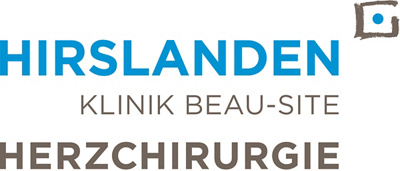 1 July 2018
Integration of radiology at AndreasKlinik Cham Zug
Following the successful acquisition of Röntgeninstitut Cham in autumn 2017, the Institute for Radiology at AndreasKlinik Cham Zug takes up operations in summer 2018. The established diagnostic and interventional services have extended by the specialty of breast diagnostics. The centre is headed by Dr. med. Wolfram Santner, specialist in radiology.

July 2018
"Quality time" – quality from the patient's perspective

This year's quality reporting features cancer patients, doctors, nurses and chaplains in moving videos, texts and photos talking about what quality and patient satisfaction mean for them.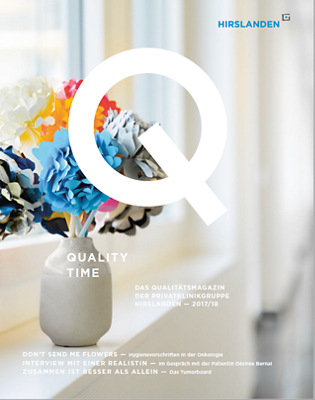 09 April 2018
Schuppis medical centre offers modern practice rooms

A number of affiliated doctors have state-of-the art practice rooms and centres at the Schuppis medical centre located some 700 metres from Klinik Stephanshorn.