EchoSOS is a worldwide free emergency app. Not only does the app communicate your location to the rescue services in case of an emergency, but you can also see all the emergency departments in Switzerland at a glance: How long would you have to wait at the emergency department? Which hospital is nearest to you?
The EchoSOS emergency app helps you in an emergency by communicating your location to the emergency service when you call. This can save valuable time. The emergency app also brings together all the important telephone numbers in one place. There's no need to worry when you're abroad: You can see all the country-specific numbers at a glance. You can set up the homescreen with different special numbers to suit your needs.
Thanks to the overview of all emergency departments in Switzerland, you can see which hospital is nearest to you, and the current waiting time on site.

Communicating your location
In an emergency you can directly contact the emergency service you choose through the emergency app. The emergency service can see where you are, saving valuable time.
How it works:
In an emergency you start the app; it automatically knows which country you are in and shows all the emergency numbers.
When you make an emergency call, the app sends your location to echosos.com.
Tell the emergency service that your location is available on echosos.com.
You can carry out these steps worldwide in case of an emergency. You don't need internet coverage for the app to work, but GPS must be activated.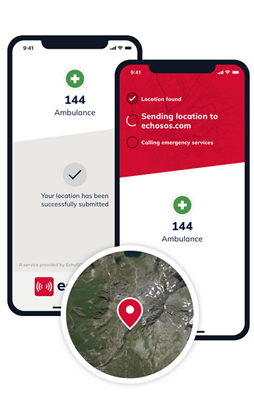 Emergency departments
Where is the nearest emergency department? How long is the waiting time there?
The emergency app can answer these questions. Hospitals in the EchoSOS network supply data on current waiting times at emergency departments.
In urgent cases, you can use the emergency app to contact an emergency service directly.
If you go to a hospital on your own, the app can help you in a few steps:
Open the overview of the emergency departments.
Look at the map or list view to see which emergency departments are closest.
Choose a hospital: You can see the current waiting time and other important information about the emergency department.