Following a natural birth or a Caesarean section, your stay in the hospital generally lasts for four to seven days. During this time, you and your child will be cared for in our Maternity Ward by our specially trained nursing staff and medical specialists. In the private hospital, your personal gynaecologist will visit you once daily.
Our nursing staff will introduce you step by step to caring for your newborn child, offering you support and advice throughout your stay at the hospital. Perhaps you have already become familiar with some aspects during a baby care or birth preparation class. Now you will learn how to feed and care for your baby, and how to change its nappy; in no time you will feel secure and on top of the world with your new baby.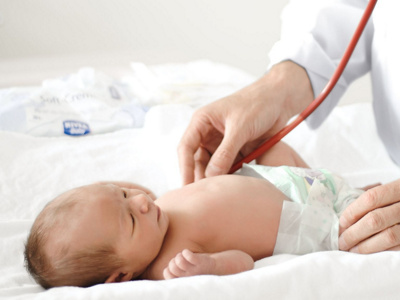 Initial examinations
During your stay at the Maternity Ward, your newborn child will be thoroughly examined by a paediatrician. These initial tests include a hip examination, in which any malformation of the hips can be determined by means of an ultrasound.
Following their birth, many babies have what is known as "newborn jaundice", which is usually perfectly harmless. If the jaundice measures above a certain level, the paediatrician may decide to treat your child with a special, harmless light procedure known as phototherapy.

If your baby requires specific medical care or monitoring, he or she be in the best hands with our paediatricians and specialist nursing staff. The modern medical and technological infrastructure of our clinics guarantees the greatest possible safety for newborn children.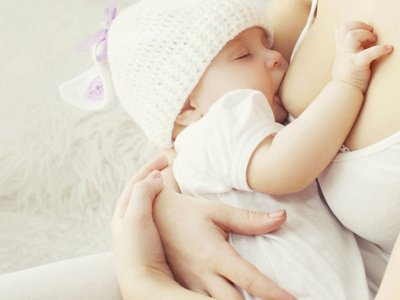 Breastfeeding
The Hirslanden clinics employ breastfeeding consultants to provide support and to demonstrate the most important aspects of breastfeeding. These consultants will provide you with information as part of a general breastfeeding consultation and also offer individual care in your own room. Following your stay at the hospital, the breastfeeding consultant at your birth hospital, or an independent breastfeeding consultant, will be made available to you should you have any questions or feelings of uncertainty.
Postpartum depression
Almost all women experience mood swings after giving birth. You will go through phases where you feel exhausted and sad, but at other times you will be overjoyed. This emotional roller coaster is entirely normal. Share your thoughts with others. If you are unable to shake off feelings of powerlessness and despondency, talk to your partner, visit a community centre that offers advice for new parents or contact your gynaecologist.
Mothers often become emotionally unstable after their baby is born. They go through a phase where they feel empty and sad. Known as the baby blues, this temporary melancholy usually starts three days after the birth. Frequent crying, mood swings, sadness, irritability, exhaustion, anxiety and fears about being a bad mother are all typical symptoms.
It is normal to experience all these feelings during the first two weeks after giving birth. This emotional and physical imbalance is often caused by changing hormone levels, as your body gets used to no longer being pregnant. However your radically changed lifestyle can also contribute to the baby blues.

Understanding, care and plenty of patience helps new mothers overcome this emotional low. During this time in particular, you should let your partner, family and friends help you look after the baby and take care of household chores.

If the baby blues symptoms continue, they can develop into postnatal depression. Postnatal depression is much more serious than the baby blues. If you feel like you are becoming depressed, it is important to contact your doctor.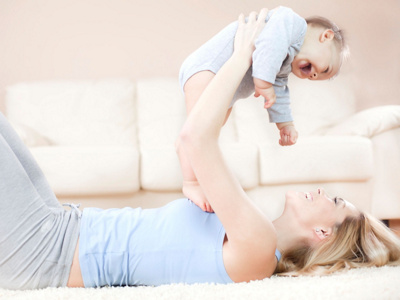 Maternity gymnastics
Our physiotherapists can show you special exercises aimed at making your body feel fit again as soon as possible. Special back strengthening gymnastics aid in tautening your stomach muscles and strengthening your lower pelvis, and promote your feeling of physical and emotional wellbeing. Mothers are advised not to place unnecessary strain on their bodies in the first six to eight weeks following childbirth.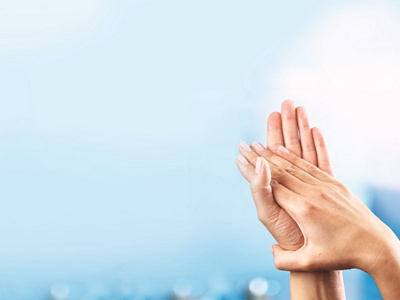 Personal hygiene
During the first six weeks after the birth, you should pay particular attention to your personal hygiene. During this time, your body is at a greater risk of infection. Change your sanitary pads frequently and at the hospital use the peri bottle to rinse your genital area after you urinate. The lochia discharge usually lasts for around four to six weeks. We also recommend that you only have showers or sponge baths during this time instead of having proper baths.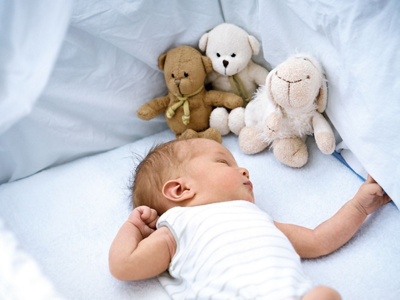 Rooming-in
The Hirslanden Maternity Wards offer you the option of having your newborn baby in your room with you 24 hours a day. This is an optimal way to become familiar with your child's nature and needs. If you would like to have a rest at any time, please do not hesitate to ask our nursing staff to take watchful care of your newborn in the Baby Room.