Breast cancer is the most common type of cancer in women worldwide. In Switzerland, around 6 200 women are diagnosed with breast cancer every year. Every fifth woman in Switzerland with newly diagnosed breast cancer consults a Hirslanden breast centre. During the Breast Cancer awareness Month of October, Hirslanden is wearing pink and is using numerous campaigns and events to draw attention to the importance of the prevention, early detection and treatment of breast cancer.

Your support is also sought in social media under #HirslandenGoesPink. Show your colours as well and upload a picture with #HirslandenGoesPink. Or take part in the competition. Most importantly: Keep yourself informed and do not look the other way... because breast cancer affects everybody.
The individual breast cancer risk of a woman can be calculated in 5 standardised steps. This enables personalised early detection. Depending on the risk level, the doctor and patient can work together to develop an optimal early detection plan and thus reduce unwanted examinations.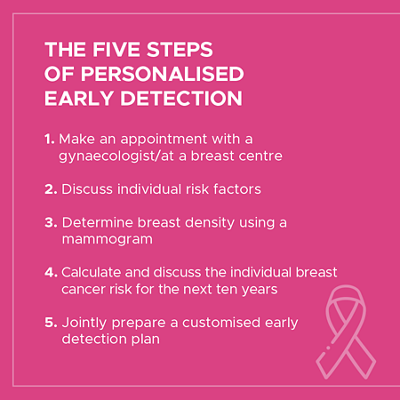 Therapy & treatment
The treatment of breast cancer is interdisciplinary and is based on different therapy options. The form and sequence in which the therapies are to be combined with each other is determined jointly by specialists from various disciplines and individually for each patient. Tailor-made treatment plans are drawn up at the weekly tumour boards. The specialists are guided by the latest scientific findings and treatment guidelines.
1. PILLAR
Surgical
The central pillar of breast cancer treatment is usually surgery. The primary goal is the complete removal of the tumour. Until the 1990s, the typical procedure was the complete removal of the breast (mastectomy). This has changed fundamentally since then.
Today, around two out of three operations can be performed with breast-conserving surgery. However, depending on the size and location of the tumour as well as the size of the breast, complete breast removal may still be necessary today. Such surgery is also carried out if a patient expressly requests it. Of course, this also applies to plastic surgery reconstruction of the breast – either directly after the breast removal or at a later date. The options range from silicone prostheses to breast reconstruction with the patient's own tissue. Breast cancer surgery also includes the removal of lymph nodes in the armpit because tumour cells metastasise there first. However, today, is not usually necessary to remove all of the lymph nodes.
2. PILLAR

Radiotherapy
Even after the complete surgical removal of a malignant breast tumour, microscopic tumour cells may still be present which are invisible to the surgeon's naked eye. They are able to induce a new outbreak of the disease, either locally or at another location in the body. 
For this reason, radiotherapy is often recommended as a further treatment step after surgery. Today, linear accelerators are used almost exclusively to bombard cancer cells with the smallest particles. The treatment usually lasts five to six weeks. During this time, the patient comes to the hospital several times a week for radiotherapy of the entire breast. This is sometimes followed by additional radiotherapy of the former tumour area with an increased dose (boost) because this is where the greatest risk of relapse exists. Radiotherapy is planned and carried out by radio-oncologists, who are specialists in this field.
3. PILLAR
Drug therapy
Medical oncology is the specialty responsible for drug therapy during interdisciplinary treatment of cancer. Oncologists determine whether a breast cancer patient should receive drug therapy in addition to surgery and radiotherapy based on various risk factors for a relapse. 
These include the size of the tumour, the number of lymph nodes affected in the armpit, the cell division rate and the biological classification of the tumour based on tissue or genetic examinations. Chemotherapy is the traditional drug therapy used to inhibit the growth of cancer cells or to kill them. Other forms of drug therapy include antihormone therapy and newer approaches such as antibody and immune therapies. Depending on the type of therapy, the drugs are administered intravenously or in oral form. Drug therapies are often used after surgery to reduce the risk of relapse (adjuvant therapy). However, sometimes chemotherapy is indicated even before the surgery (neoadjuvant chemotherapy). It is able to reduce the size of a large tumour, which then makes it easier to remove. 
Drug treatment in detail
Chemotherapy
Chemotherapeutic substances are drugs which interfere in the metabolism of the cancerous cells. They kill cancer cells directly or inhibit their growth. Such drugs are called cytostatic drugs. There are more than a hundred different cytostatic drugs that are used individually based on the type of cancer and stage of the disease.
Several types of cancer such as leukaemia or lymphoma are primarily treated with chemotherapeutics. In the case of other cancers such as lung cancer, breast cancer or bowel cancer, chemotherapy is used after an operation or irradiation. In this case, we refer to adjuvant chemotherapy. Chemotherapeutics can cause side effects like nausea and vomiting. For this reason, patients undergoing chemotherapy are often given a drug at the same time as chemotherapy to combat nausea.   
Drug treatment in detail
Antihormonal therapy
The growth of breast cancer is often stimulated by the female hormone(s) oestrogen and/or progesterone. This happens via hormone receptors on the tumours to which the hormones attach themselves. A tissue examination can determine whether a tumour has these receptors and is therefore "hormone receptor-positive". Antihormonal therapy (also known as endocrine therapy) takes advantage of the hormone dependence of many breast tumours by either blocking the hormone receptors on the tumour or suppressing the body's own production of female hormones. 
Antihormonal therapy is usually used as a complementary treatment after surgery and, if necessary, further treatments such as chemotherapy. The goal of antihormonal therapy is to reduce the risk of relapse. It is usually done by taking one tablet daily over a period of several years. Possible side effects include hot flashes and bone, muscle and joint pain. The alleviation of such side effects is part of breast cancer aftercare.
Drug treatment in detail
Antibody therapy (immunotherapy)
Antibody therapy is a relatively new treatment and is usually combined with chemotherapy. It is considered a target therapy because it only fights tumour cells and spares healthy tissue. Such therapies combat the properties of a tumour that promote its growth. In one type of breast cancer, this trait manifests in a high incidence of the growth receptor HER2 on the tumour cells. Growth signals are transmitted into the cell via the HER2 growth receptor. 
A high HER2 density affects around 20 per cent of breast tumours and is associated with aggressive progression of the disease. Antibodies that attach to and block the HER2 receptor have been developed to treat this type of breast cancer. As a result, the growth signals are no longer passed on, which slows down the growth of the tumour. At the same time, the antibodies strengthen the effect of the chemotherapy and activate the body's own immune response against the tumour cells. For this reason, antibody therapy is also considered to be an immunotherapy. It is administered via a monthly infusion and lasts 12 months.
Alternative treatment options
Complementary therapies
In recent years, major advances have been made in the treatment of breast cancer. Nevertheless, in many cases, it remains a lengthy process. In addition to the symptoms of the disease, patients often suffer side effects from the therapies – such as fatigue, changes in body image, eating difficulties and psychological problems. For this reason, breast cancer patients have access to a wide range of complementary medical therapies and non-medical services. The goal is to improve the quality of life of the women affected by alleviating the complaints caused by their illness and treatment and by strengthening their resilience. 
The range of services includes pain therapy, physiotherapy, complementary medicine, nutritional advice, psycho-oncology, social counselling, integrative care and sexual therapy. This can be complemented by integrative measures such as yoga and mindfulness therapy or music and dance therapy. Breast cancer patients are advised by experienced specialists in the design of a programme tailored to their individual needs.
Three questions for our specialists
SURGERY
Prof. Dr. med. Andreas Günthert, specialist for gynaecological oncology, Breast Centre Aarau Cham Zug

Why did you become a gynaecologist?
The spectrum of gynaecology is very broad and sometimes you come to important junctions in life where you decide on a path. I have always been fascinated by the empathic treatment of tumour patients and the desire to improve my professional skills.

What is so special about breast cancer patients?
Breast cancer exists in all age groups and is an inhomogeneous disease - from aggressive to slowly growing tumours. Even though in the vast majority of cases it goes well, the support of patients and their relatives on this path is always focused on the whole person and not just on the breast.

What is the biggest challenge in your profession?
Maintaining the best possible expertise and skills, to help shape developments in medicine and, in addition, always having time and understanding for patients.
RADIOTHERAPY
PD Dr. med. Günther Gruber, Chairman Radiooncology, Tumour Centre Hirslanden Zurich
 
What exactly drew you to this job?
After a year in surgery, I ended up in radio-oncology rather by chance. My first boss challenged and encouraged me a lot, also in scientific terms. When the opportunity arose to switch to the university in Bern, it was clear to me that I wanted to stay in the specialty.

What do you enjoy most about your job?
It is the combination of high-tech medicine with large, sophisticated radiotherapy equipment, coupled with direct patient contact and its quiet, emotional and life-affirming moments.
 
Do you remember a specific patient history?
I do not want to pick out a single example; it is always nice when you can help people. Unfortunately, this is not always the case.
DRUG TREATMENT
Dr. med. Urs Breitenstein, Head of Oncology, Zurich Breast Centre
 
Why did you become a medical oncologist? 
As a young assistant doctor, I was given the task of looking after cancer patients during their treatment in hospital. This opportunity and the exciting, personal contact with these patients paved my way to medical oncology.

What do you enjoy most about your job?
The most touching are the moving moments with my patients. Their joy, hope and gratitude strengthen me as a person and as a doctor. They carry me through the difficulties of everyday life and when I am dealing with fear and grief. The field of tension between emotional patient contact, the broad spectrum of disciplines and the explosion in knowledge about cancer and its treatment make the profession of medical oncologist a unique one.
 
Do you remember a specific patient history?
Every patient's fate remains etched in my memory. The young mothers who bring their babies to the practice are always touching, after they had been treated for breast cancer a few years earlier and their future in all areas of life was fundamentally called into questioned by the diagnosis.
 
SURGERY
Dr. med. Patrizia Sager, Specialist in gynaecology and obstetrics, Head of the Breast Centre Bern Biel
 
What exactly drew you to this job?
I have always wanted to provide breast cancer patients with holistic, high-quality treatment. This can only be achieved if specialists also work together to define the best treatment for each individual patient. Such collaboration can only be successful in a breast centre where everyone pursues the same goal.

What do you enjoy most about your job?
Close, personalised care of patients, which includes several steps from diagnostics to therapy. This creates a close bond. In addition, we work at a high level and hold lively interdisciplinary dialogues with one another.

Do you remember a specific patient history?
I have cared for a very young patient who was diagnosed with breast cancer at the age of 27. She had a hard time with chemotherapy and surgery and was about to get married. We had many discussions about her future. Now, 6 years later, she has a 2-year-old daughter and is back to normal life.
 
COMPLEMENTARY MEDICINE
Prof. Dr. med. Marcus Schuermann, specialist for general internal medicine, Breast Centre Aarau Cham Zug
 
How do you support women with complementary medicine?
Every woman reacts differently to oncological treatments. Therefore, it should also be accompanied individually. Among other things, a selection of trace elements and vitamins, phytotherapeutic preparations or immune stimulants are used, in addition to comprehensive advice on self-help.

What is the biggest challenge in your profession?
Complementary medicine and medical oncology often require controversial ways of thinking. As an oncologist I make sure that therapy and support go hand in hand. Over the years, I have developed meaningful combinations from a wide range of products that have proven themselves in practice.
 
Why did you decide on this specialisation back then?
After 20 years in molecular research and university medicine, I realized that oncological treatment also includes other aspects and consciously promote this side. To have everything in one view now, gives me special joy.
INPATIENT NUTRITIONAL THERAPY
Patrizia Christen, Head of Nutritional Therapy & Specialist Diabetes Counselling
 
Please could you briefly explain the role of nutritional therapy in oncology.
Depending on the tumour, oncological patients run the risk of malnutrition. This risk is usually heightened by a hospital stay.

What is the difference between inpatient oncological nutritional therapy and outpatient treatment?
The primary goal of inpatient nutritional therapy is to keep the patient's nutritional status stable and to find the causes of possible malnutrition, in order to subsequently improve his/her nutritional status in a targeted manner on an outpatient basis.
 
What do you enjoy most about your job?
I think it is nice to see just how different people and their solution strategies are.
 
SURGERY
PD Dr. med. Christoph Tausch, Chairman Breast Cancer Centre, Tumour Centre Hirslanden Zurich
 
What do you enjoy most about your job?
As a surgeon, I can provide efficient help to patients with a life-threatening disease. As part of an outstanding team of specialists, I have the privilege of treating my patients with the latest technology and caring for many grateful patients.

Do you remember a specific patient history?
I am still in contact with a patient in Austria who was diagnosed with aggressive breast cancer at the age of 30 and who showed signs of metastases in other organs after only two years. She has now been tumour-free for fifteen years and is an example to me that you should not give up hope.
 
What do you do in your free time to offset your work?
I mainly do sports like jogging, mountain biking, swimming and skiing, and I am looking forward to travelling again.
RADIOLOGY
Dr. med. Wolfram Santner, specialist for radiology, Breast Centre Aarau Cham Zug
 
What do you enjoy most about your job?
The technical development of radiology makes this discipline particularly exciting. Particularly in breast diagnostics, where it is important to detect malignant changes at a particularly early stage, these developments help us make gentle treatment and a better prognosis possible for patients.

How do you keep yourself up to date with the latest technical developments?
Besides participating in conferences, I am also active as a speaker, reviewer for trade journals and author of articles. Regular contact with colleagues at home and abroad is also part of this, in order to keep up to date with the current state of knowledge.
 
Do you see any differences between your work in Switzerland, Norway and Austria?
The trend towards specialisation of medical specialists and certification of breast centres is also noticeable in Switzerland. More and more cantons are relying on organised screening programmes. This, together with the very good medical coverage, means that Switzerland is at the highest level in an international comparison.
 
OUTPATIENT NUTRITIONAL THERAPY
Kirsten Scheuer, certified nutritionist HF
 
What is the difference between inpatient oncological nutritional therapy and outpatient treatment?
The aim of outpatient therapy is to improve the patient's well-being and nutritional status with the resources that he/she has at home. Or to find suitable measures quickly and easily for home use and organise them as required.

What are the challenges?
Self-determined meals can be a challenge for everyone involved due to therapy-related symptoms such as fatigue, nausea, diarrhoea or changes in taste.
 
What do you enjoy most about your job?
To have the privilege of accompanying people on part of their journey and experiencing the gratitude that they show me.
 
SURGERY
Prof. Dr. med. Maziar Shafighi, specialist for plastic, reconstructive and aesthetic surgery, Breast Centre Bern Biel
 
What exactly drew you to this job?
The versatility of my profession, the craftsmanship and the possibility of restoring an organ like the breast and thus helping a patient to regain normal self-esteem and a good quality of life after this difficult time are still fascinating to me and my motives.

What do you enjoy most about your job?

It is a privilege for me to be able to pursue my passion in this profession. Symbolically speaking, I see myself and breast reconstruction for patients as a bridge between the shock diagnosis of breast cancer and the return to normal life.
Do you remember a specific patient history?
A 65-year-old female patient, in whom I reconstructed the breast with autologous tissue from the abdominal region about 20 years after the breast removal, told me that she was very grateful that such a thing is even possible. If she had known about these possibilities at the time, she would have had this operation much earlier and had a better quality of life all these years.


PLASTIC, RECONSTRUCTIVE AND AESTHETIC MEDICINE
Dr. med. Alessia Lardi, Specialist for plastic, reconstructive and aesthetic surgery, Plastic Surgery Group, Zurich
 
You are a specialist in plastic, reconstructive and aesthetic surgery at PSG and often operate at the Hirslanden Tumour Centre Zurich with the Zurich Breast Centre. When are you "put into action"?
Our task is the reconstruction of the breast. This can take place at the same time as the tumour operation or at a later time. Breast reconstruction includes the reconstruction of the affected breast, the nipple and often also an adjustment of the opposite side. Our goal is to provide women with the best possible quality of life after tumour surgery.
 
What exactly drew you to this job?
Breast reconstruction often involves reconstruction of the patient's own tissue using microsurgical techniques, that is my great passion.

What do you enjoy most about your job? / What is the best thing about your job?

Helping women who are affected by breast cancer feel good in their bodies again and accompanying them in this process is the most beautiful thing about my job.
 
WORKING IN A BREAST CENTRE
Modern diagnostics, therapy and aftercare of breast cancer combines the knowledge and skills of a wide range of medical specialties and professions. The bearers of these specific skills are experts who work closely together in specialised breast centres. In addition to specialists from various disciplines, these include medical practice assistants (MPA), oncology nurses, medical-technical radiology assistants (MTRA) and breast care nurses.
Breast cancer:
Did you know…?

The best time to perform a self-examination of your breasts is approx. one week after the start of menstruation.
If detected early, the chances of recovering from breast cancer are significantly higher.
Around a fifth of all patients are under 50 years of age when diagnosed with breast cancer. 
The risk of developing breast cancer increases after menopause. 
Statistically, one in eight women in Switzerland develops breast cancer. 
50 men develop breast cancer every year in Switzerland.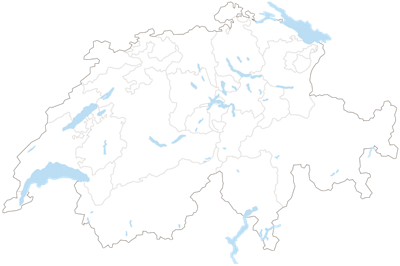 Centres of the Hirslanden Klinik Aarau
Centre of the AndreasKlinik Cham Zug
Centres of the Klinik Hirslanden
Centres of the Klinik Im Park
Centre of the Hirslanden Salem-Spital
Centre of the Hirslanden Klinik Linde
Centres of the Klinik St. Anna
Centre of the Klinik Stephanshorn
Centre of the Hirslanden Clinique Bois-Cerf
Centre of the Hirslanden Clinique des Grangettes