Breast cancer is the most common malignant cancer in women. In Switzerland, around 6`500 women develop the disease each year. The exact causes of breast cancer are still unknown, but there are a series of known risk factors – especially family history and the natural ageing processes of the body.
Breast Centre Zürichsee is certified according to the high standards of the quality label for breast centres of the Swiss Cancer League and the Swiss Society of Senology. This covers the treatment of all breast problems and includes the early detection of breast cancer, prevention, and the comprehensive diagnosis and treatment of breast diseases by qualified specialist doctors. At a 'tumour board', each case is analysed by various experts and a plan is drawn up for the best course of treatment. Interdisciplinary networking paves the way for rapid investigation, gentle and targeted diagnosis, and comprehensive consultation using the latest treatment technology.
Breast Centre Zürichsee is a collaboration between Hirslanden Klinik Im Park in Zurich and See-Spital in Horgen. Please refer to the Breast Centre Zürichsee website for more information on the medical services provided, the team, the tumour board and breast consultations.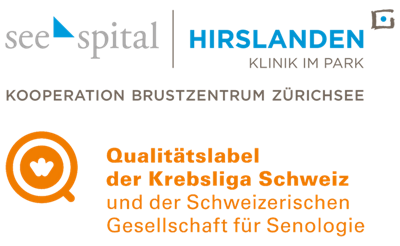 Breast Centre Zürichsee
Location at Klinik Im Park
Seestrasse 220
8027 Zürich

Availability by telephone:
Mon-Fri: 9.00-12.00 am and 1.00-4.00 pm