The first few hours and days after the birth are fulfilling and exciting. At the same time, you may be exhausted from the delivery and very emotional and shaken. It is completely normal to feel uncertain about how to handle an infant. We offer you support and advice during this intense and somewhat challenging time.
Recovery and care in the postnatal unit
A few hours after delivery, you will be moved to your bed in the postnatal unit, where your care will continue seamlessly with our healthcare professionals and a midwife. With our rooming-in system, your newborn will be in the room with you. You can also give your baby to our healthcare professionals for a few hours at any time so you can rest. In our post-natal ward, we give you enough time for your body to recover and for you to settle in with your baby. You will be supported by our team, which will answer any questions or uncertainties you might have.
Our cosily furnished rooms with a hotel-style atmosphere provide a safe, relaxing atmosphere. AndreasKlinik Cham Zug offers top-quality, healthy cuisine which is tailored to the needs of new mothers.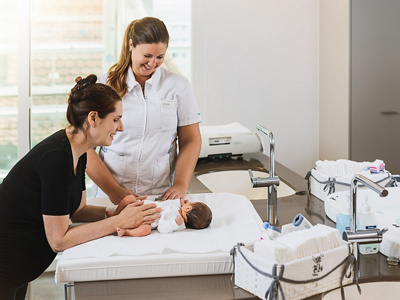 Offers for the post-natal period and for the first days at home
The AndreasKlinik Cham Zug is characterised by first-class care, a modern infrastructure and a diverse range of services. You benefit from an experienced team of doctors, midwives and nurses. In addition, we offer post-natal gymnastics and pelvic floor training as well as outpatient offers for the first days at home with your baby.