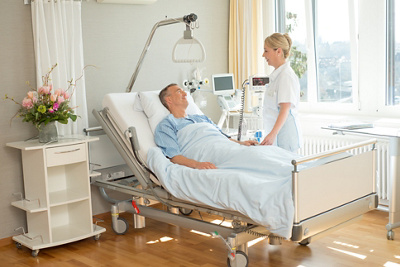 Rooms
Klinik Beau-Site has 55 modern private and semi-private rooms as well as three triple rooms. They are light and pleasantly furnished, and offer a comfortable atmosphere in which you will feel completely at ease.
Our single and twin rooms for patients with private and semi-private insurance are equipped with a toilet and a shower. Triple rooms with a shower and a toilet are available for patients with basic insurance. The bed can be adjusted electronically (overall height, height of the head and foot sections) and also extended, if necessary. We also provide you with towels. Upon request, you will receive a hairdryer on the ward. A bathrobe and slippers are provided in the cupboard for patients with private insurance.
TV/Radio
The television in your room offers a wide selection of radio and TV programmes. Out of respect for your fellow patients, please make sure your radio and TV do not exceed room noise level. You will receive headphones upon admission.
Telephone
Upon admission you will be assigned a direct dial number to the telephone in your room and you will receive a phone card. This means that you can be reached from 7:00 to 21:30 via the direct dial number of your room. Between 21:30 and 7:00, all incoming calls are taken by the hospital switchboard. Mobile phones are not allowed in certain areas. Please follow the signs.
Internet
In the hospital, all patients have a free Internet connection (Wi-Fi). On request, we provide privately insured patients with an iPad.

Post
We will deliver all letters, faxes, parcels and flowers to your room as quickly as possible. E-mails sent to the hospital or addressed to you will be forwarded to you. You can leave your own mail with your nurse or at reception.
Newspapers
Patients with semi-private and private insurance can choose between "Der Bund" and "Berner Zeitung" free of charge. On Sunday you will receive the "Sonntags-Zeitung". If you have private insurance and would like another newspaper, please contact the Guest Relations team.
Flowers
Our housekeeping staff will be glad to take care of your cut flowers (for patients with private and semi-private insurance). Potted plants and flower arrangements are not permitted in the hospital for hygiene reasons.
Leaving the department
Please inform your nurse if you wish to leave the department. If you leave the hospital grounds, you do so at your own risk; please discuss this with the doctor and nursing staff beforehand.
Single room with bathroom

Twin room, bathroom for two people

Shared room, bathroom for several people

TV and radio with a wide range of programmes

TV and radio with a wide range of programmes

TV, radio CHF 8 per day,
maximum CHF 50 per stay

Yes, with a pick-up and delivery service that is subject to charge

Yes, with a pick-up and delivery service that is subject to charge

Free choice of newspapers offered by the hospital

Regional daily newspaper, BZ, Bund or 24 heures

Regional daily newspaper, BZ, Bund or 24 heures, subject to charge

Daily care of cut flowers

Care of cut flowers 3x per week

Overnight stay of a relative in a patient room


Yes, free of charge, excluding breakfast

Yes, subject to charge and only if patient is in a single room

Privé bathrobe and towelling slippers are available

Light bathrobe on request

Light bathrobe on request, CHF 10 per stay

High-quality dermatological skincare products from Louis Widmer

High-quality dermatological skincare products from Louis Widmer

Standard shower gel on demand

Charging device for smartphones