Diagnosis and treatment options for strokes have become more efficient, but also more complicated in recent years. Klinik Hirslanden has two specialist units that enable optimal treatment of stroke patients: the NeuroSuite and the BrainSuite.

Neuroradiological treatment in the NeuroSuite
The NeuroSuite is a fully equipped room with cutting-edge technology in which the Hirslanden Stroke Centre neuroradiologists can perform the full spectrum of minimally invasive neuroradiological diagnosis (MR, MR angiography) and endovascular interventions (clot removal via catheter). The suite is available 24 hours/365 days a year for acute diagnosis and treatment.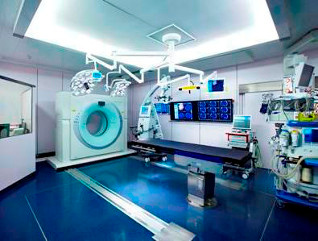 Neurosurgical treatment in the BrainSuite
The BrainSuite is a modern operating theatre that has been designed specifically for neurosurgical procedures. The BrainSuite is equipped with magnetic resonance imaging (MRI) and computer tomography (CT), as well as modern navigation technology. This high-tech equipment enables intra-operative imaging and is used to review and control the safety of the surgical procedure. Intra-operative imaging and navigation technology facilitates the neurosurgeonsin anatomical and surgical orientation in the finest structures of the brain, even in critical situations.