Childbirth is probably one of the most overwhelming experiences that a woman can have. However, it can be challenging and intense, so women giving birth want one thing above all else: An environment and care tailored to their needs, so that they feel secure, respected and in good hands until the moment their baby is born and they can hold him or her in their arms.
Our midwives manage the birth –in close collaboration with the doctors 
You rmidwife is responsible for managing natural birth in close collaboration with your doctor. The midwife checks the opening of the cervix and the course of the birth and gives you individualised support. You can safely place yourself in her hands if you are in pain or have any concerns. Rest assured that we will support you in your efforts to give birth naturally, just as individually as in the case of a caesarean section. Your partner or another support person is welcome to be by your side during the whole birth – whether it is a natural birth or a caesarean section.
Are you in pain and could you be having contractions? Is the birth imminent? Give us a call!
As soon as you experience regular contractions, if your waters have broken, you have unexplained vaginal bleeding or if you feel worried about anything, please contact our midwife: You can reach our midwives by telephone on T +41 31 337 68 88 at any time. They will discuss the situation with you and decide whether you need to come to the hospital.
Admission to the hospital – report to reception or to the emergency gate at night.
When entering the hospital, please report to reception during the day and to the emergency gate at night. Pregnant women who are due to have a caesarean section usually arrive at Salem-Spital on the day of the planned procedure. 
Our range of pain relief options
The safety and well-being of the women giving birth and the babies is paramount to us. Please find below an overview of our services and the different pain relief methods that we offer.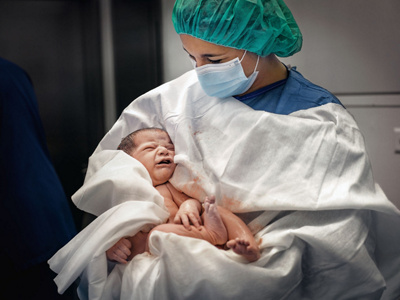 You can also rely on us in the event of a caesarean section
If you need a caesarean section, the baby is delivered in the operating theatre. Thanks to the anaesthesia of the abdomen and legs, the mother can witness the birth and take her newborn in her arms immediately. The actual procedure generally takes around 5 to 10 minutes, with around 45 minutes elapsing from preparation to completion.
For more information about caesarean sections, please contact your gynaecologist
We do everything we can to help you manage your labour pain as effectively as possible 
Every expectant mother experiences the birth of her child and the associated contractions and pain differently when undergoing a natural delivery. Even though many pregnant women give birth without further assistance, there are often situations and circumstances in which pain relief measures are necessary and sensible.

Natural pain relief – contribute to relaxation with alternative methods
We offer a comprehensive range of alternative pain relief during natural childbirth. These include aromatherapy, acupuncture, relaxation baths, homoeopathy or conscious breathing. For more information, please refer to our course overview.
Medical pain relief ranging from PDA injections to patient-controlled pain relief 
We also offer you various medical pain relief options during childbirth: These include, on the one hand, complementary medicine, antispasmodic drugs (spasmolytics and analgesics) and peridural anaesthesia (PDA), i.e. an injection into the spine which is administered by the anaesthetist. In addition, patient-controlled pain relief (PCA), also called walking PDA – an infusion that you can administer yourself in doses during birth – and combined spinal epidural anaesthesia (CSEA) are available to women in labour. CSEA combines the advantages of spinal anaesthesia (rapid onset of action) with those of epidural anaesthesia (effective postoperative pain relief). Here at Salem-Spital, we adapt the type of pain relief to your individual needs while you are in labour. 
Contact us by phone at any time if you would like more information about relieving labour pain or if you have any questions that you would like to discuss with your midwife or doctor. Our anaesthetists are at your service during tour anaesthesia consultation hours.