The da Vinci® surgical system is a powerful technological advancement in patient care. Depending on the situation, the urological surgeon may choose to operate with the assistance of the da Vinci® surgical system, with maximum visibility and precision.
The da Vinci® surgical system is fitted with an ergonomic console and a chair equipped with four robotic arms. 
The urological surgeon controls the four robotic arms from the console. They therefore have a three-dimensional view of the surgical field, and the opportunity to enlarge the image for greater precision. The robot's arms convert the movements of the surgeon's hands, wrists and arms in real time. Visual feedback is highly precise and parasitic motion is eliminated.    

The da Vinci surgical system offers multiple advantages over traditional open surgery:
Greater precision of movements 
Generally shorter stay in hospital
Less post-operative pain 
Lower risk of infection
Shorter recovery time 
Smaller scar size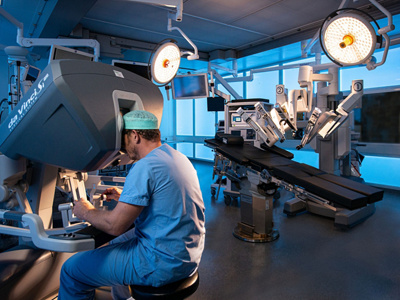 Discover here an infographic on the Da Vinci robot