The restaurant at the Clinique des Grangettes is in the care of chef Thierry Fischer. He offers patients and visitors dishes made with fresh ingredients from the market adapted to the dietary needs of a medical establishment.
Extended opening hours during the summer period

From Wednesday 1st June until mid-September, the Tea Room and its shaded terrace are open from 7.30 am to 8 pm.

Our team will be happy to take your reservation by phone at +41 22 305 01 74.
Fresh and creative meals
It's like a traditional gastronomic restaurant: every day his team prepares food from fresh and seasonal ingredients purchased at the market. Everything is made in-house, from the pastries, to the side dishes accompanying the two daily menus. And you don't have to be ill to enjoy them. The cafeteria and the tea room at the Clinique are open to patients and visitors, who can enjoy the verdant surroundings of the restaurant's terrace and take full advantage of the sophisticated cuisine, a variety of desserts, and a wine list featuring great vintages. 

Dietary requirements included
The chef consults with the Clinique's dieticians on a daily basis and the special needs of the patients are also met with great care. The Clinique des Grangettes also offers consultations with a dietician for future parents who would like to regain healthy nutritional habits before the arrival of their baby.

Opening hours

Monday to Friday:  7:30 - 8:00
Saturday and Sunday: 8:30 - 8:00
Would you like to reserve a table?

+41 22 305 01 74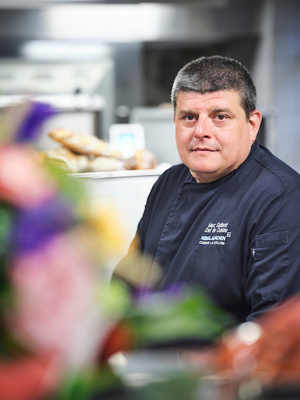 Marc Galland
Chef exécutif