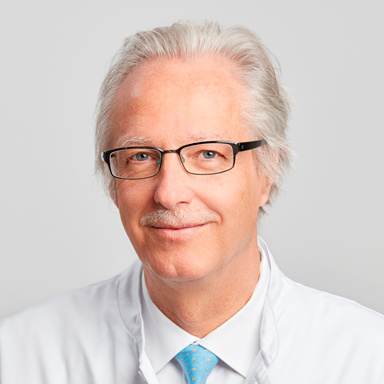 Prof. Dr. med. Urs Dieter Schmid
Specialist in

Line of action

Languages

German, Italian, English, French
Core competencies
NeuroSpineZurich - spine interdisciplinary group since 1997
600 to 1,000 new patients are referred to Prof. Schmid's outpatient clinic every year for examination, some of whom also receive conservative treatment. Together, the two neurosurgeons perform over 400 open spine operations per year at the Hirslanden Klinik Im Park and the Triemli City Hospital.
NeuroSpineZurich is a collaborative interdisciplinary group of medical specialists that was nominally founded in 2016 but which has been active since 1997 years. It focuses on the diagnosis, conservative treatment and neurosurgical and neuro-orthopaedic care of spinal disease. The group is composed of the owner/founder of NeuroSpineZurich (Prof. Urs D. Schmid) and 2 rheumatology colleagues (Dr. Susanne Valentin and Dr. Peter Kremer), a general practitioner (Dr. Gisela Pfister), a neurosurgeon (Dr. Massimo Leonardi) and an orthopaedist (Dr. Jörg Huber).
Spinal surgery
Microsurgery of the entire spine with and without spinal fusion with intraoperative monitoring in tumours, spinal stenosis, herniated disc, instability.
Spinal medicine (non surgical)
Infiltrations, epidural, sacral, facet joint, sacroiliac joint, manual medicine (performed by rheumatologists in Prof. Schmid's practice, in Bellaria House, and by neuroradiologists in the Klinik Im Park).
Neurological diagnosis
of complex gait disorders (brain, spinal cord, spinal cord nerves, peripheral nerves) in Prof. Schmid's outpatient clinic (in collaboration with internal and external consultant neurologists).
Professional career
2002

Professor of Neurosurgery, Ludwig-Maximilian University, Munich

1997

Head of Department of Neurosurgery, Triemli City Hospital, Zurich

1996

Neurosurgery Clinic, Klinik Im Park, Zurich

1992 - 1995

Senior Attending Physician of the Department and Head of the Laboratory of Intraoperative Neurophysiology, Dept. of Neurosurgery, Grosshadern Hospital, Ludwig-Maximilian University, Munich

1990

Assistant Professor of Neurological Surgery, Presbyterian University Hospital, Pittsburgh PA, USA

1987 - 1989

Senior Physician, Department of Neurosurgery, Inselspital University Hospital, Bern
Schools, university & degrees and diplomas
2002

Professor of Neurosurgery, Ludwig-Maximilian University, Munich

1995

Qualification as Senior Lecturer, Ludwig-Maximilian University, Munich

1994

Teaching qualification as Dr. med. and Dr. med. habil., Ludwig-Maximilian University, Munich

1989

FMH (Swiss Medical Association) Specialist in Neurosurgery

1986

Medical Thesis, University of Berne

1979

State Medical Examination, University of Zurich

1973 - 1995

University studies and professional training

1960 - 1973

Primary School Aesch Zurich and Lyceum Stiftsschule Einsiedeln, Switzerland
Memberships and partnerships
Neurosurgery, Swiss Medical Association (FMH)