The foods served at Hirslanden hospitals are made with fresh, high-quality ingredients. Our chefs make sure patients receive a balanced and varied diet – while at the same time accommodating their individual requests.
The Hirslanden Private Hospital Group attaches great importance to serving its guests both high-quality and tasty foods. For this reason, we combine traditional cuisine with modern nutrition concepts, all prepared by professional chefs.
Hirslanden Préférence patients can choose from a varied range of menu options. Our chefs are also well-versed nutritional experts who know how to make even a bland diet taste good.
Gaetano Annoscia works as chef de partie at Hirslanden Klinik Im Park:

He believes it is important that his kitchen caters to the tastes of all patients.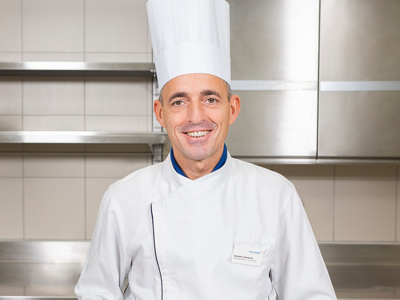 Whether lactose-free or gluten-free, halal or kosher, vegetarian or traditional, we're happy to prepare all of that and more.
Mr Annoscia, how would you describe your cuisine?
Our carefully selected meals are lovingly prepared with your health and well-being in mind. At Klinik Im Park, we therefore incorporate the latest developments in nutritional medicine and do our utmost to aid the recovery process through our passion for great food.
What ingredients do you cook with?
Our ingredients are sourced from partners who understand and consistently meet our high quality standards. In addition to quality, we also care about sustainability and where our produce is grown.
What special requests are you able to accommodate?
We accommodate the preferences of each individual patient and prepare a whole selection of menus for the patient or for their nutritionist to review. We gladly accept special requests and do our best to accommodate these and provide alternatives to the alternating daily menus.
What do you enjoy most in your daily routine as a cook?
When a patient spends their birthday at our hospital, we prepare something extra special in the kitchen based on the preferences they have provided. It's a delightfully sweet surprise that patients are always very happy to receive and puts a smile on their face.
What foods are especially popular with guests?
Traditional dishes like "Zürich Geschnetzeltes"-style veal are regular features on the menu. Our Sunday roast, fresh out of the oven, is also very popular.