Our mandate includes the full range of orthopaedic diagnostics, a wide variety of treatments and the appropriate surgical techniques/procedures.
This broad spectrum of diagnostic and therapeutic measures allows us to provide each patient with the very best medical care.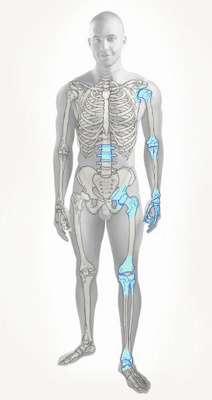 Our specialist areas
Shoulders Rotator cuff tears, calcification, dislocation, osteoarthritis of the shoulder
Spinal surgery
Elbows Elbow instability, trapped nerves, osteoarthritis of the elbow, tennis arm and golfer's elbow
Hands and wrists Snapping/trigger finger, carpal tunnel syndrome, Dupuytren's disease, carpometacarpal osteoarthritis, ganglions 
Hips Hip replacement (minimally invasive technique), hip arthroscopy
Knees Malalignment of the knee, knee replacement (also partial prosthesis), torn cruciate ligament, meniscus 
Feet and ankles Osteoarthritis of the big toe base joint, plantar fasciitis, bunion, hammer/claw toe, Morton's neuroma, tailor's bunion, forefoot pain
Tumour orthopaedics Benign and malignant primary bone tumours, soft tissue tumours, metastases
Paediatric orthopaedics
Arthroscopic surgical procedures in orthopaedics
Sports injuries
Reconstructive surgery
Microsurgery
What you can expect
Extensive surgical experience

State-of-the-art surgical techniques
Surgery only when strictly indicated
Holistic approach
The very best medical care from an interdisciplinary team
Close collaboration with family doctors, physiotherapists and other specialists
Short appointment and waiting times

The infrastructure of Klinik Im Park is available at all times due to its proximity and close collaboration.