To give our readers the chance to get to know more about the people involved in the day-to-day life of our hospital, here is an interview in our series "3 questions to".
1 : Why did you chose to pursue a career as a doctor ?
The reasons are many and varied! But the main one is the relationship and the contact with the patient: talking, reassuring, advising.
When a patient comes for a consultation, we establish an open dialogue, creating a relationship of trust. The human side is very important.
Then there is the "detective" side which comes into play when making a diagnosis: this means having even deeper discussions with the patient, and sometimes with colleagues when there may be different opinions. Sharing and offering a response, help or support to a patient are always very interesting and gratifying.
2 : What would you say to a student who wanted to follow the same training as you ?
I would say that it may not always be plain sailing, as in many other professions or in life in general.
But in the end, if you really want it, you mustn't give up: always visualise your goal and you will be happy.
3 : How does your work affect your day-to-day life in specific ways (mood, view of the world, approach to life, organisational approach) ?
Human beings are quite insignificant in the modern world, even if we think we have control over certain aspects of it... A more pragmatic approach to life (like during a medical consultation) can make it easier.
Organising our everyday lives, at work and at home, is a constant challenge that requires us to negotiate between the different needs and desires of various people, but it is something we have to do if we want to succeed in all areas of life.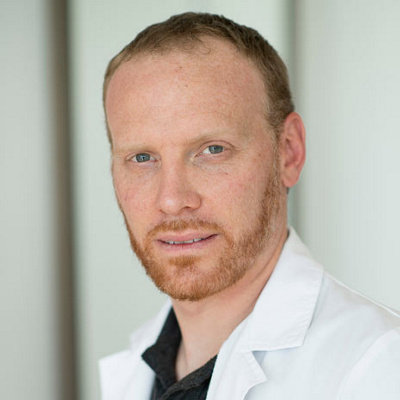 Medical specialist, Physical Medicine and Rehabilitation Specialist; Rheumatology
Dr. Vincent Burki