A nickname with which Himalayan climbers are very familiar. The nickname given to a woman who is tirelessly climbing the world's snow-capped peaks.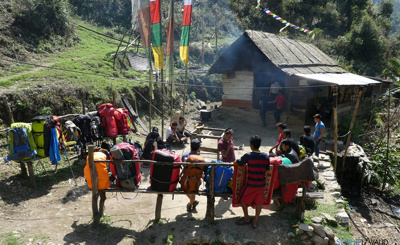 Ever since her first ascent of Mont Blanc in 2004, Sophie Lavaud, speaker, mountaineer and, most notably, seasoned Himalayan specialist, has been travelling the world from one summit to the next. First she climbed the 5,000 m peaks, then, by 2012, she had added 6,000 m and 7,000 m peaks to her collection.
She travels the world from one continent to another, and in 2016 she climbed two 8,000 m summits in the same season, a sporting accomplishment that only 10 or so women in the world have achieved.
In May 2014, Sophie reached the summit of Everest (8,850 m). Summer 2015 was dedicated to the ascent of Gasherbrum II (8,035 m) in Pakistan. And in 2016, she climbed Makalu (8,485 m) in Nepal, the fifth highest 8,000 m mountain.
This season, Hirslanden Clinique La Colline decided to become a partner in her adventure by supporting her in her planned ascent of Kanchenjunga (8,586 m) in Nepal.
Dr Jean Luc Ziltener, sports doctor and a specialist in the medical care of elite athletes, is one of the doctors providing medical monitoring at the Centre of Sports Medicine and Exercise. The hospital has provided the medicines necessary for this expedition.
In doing this, La Colline is supporting this sporting commitment and helping Sophie to achieve her climbing ambitions in the best possible conditions.
We also wish to recognise her commitment to and support of the "Mahila" project (Nepalese for "Woman") run by the NGO Norlha. Her ascent of the third highest summit will raise funds for this project.
We invite you to follow her ascent and the story of her expedition by following her on social media : Facebook, Twitter, LinkedIn, Instagram and her blog.