We offer you a broad range of modern surgery and medicine. This includes the treatment of various diseases and conditions requiring surgery in the abdomen (visceral surgery, proctology and surgery on the female reproductive organs), surgery on the heart and thoracic aorta as well as plastic/reconstructive surgery of all kinds.
Please see below for more information on our disciplines and specialisations, as well as the various conditions that we treat.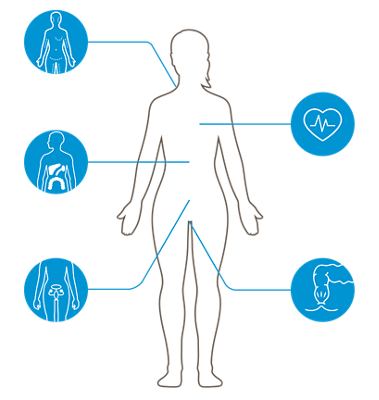 Cardiac and thoracic vascular surgery
Surgery on the abdominal organs
Abdominal surgery, also called visceral surgery, includes operations on the entire digestive tract, the abdominal wall and the hormone-producing organs (thyroid glands, parathyroid glands, adrenal glands).
Surgery on the rectum/anus
Proctology deals with disorders of the rectum. This branch of medicine specifically comprises the prevention, diagnosis and treatment of disorders of the anus and the anal canal. The range of treatment includes both non-surgical and surgical options.
The anus is the opening of the rectum to the outside of the body and is where the bowels are emptied. A wide range of disorders can occur around the anus and in the anal canal.
The transitional zone between normal skin and intestinal mucosa, known as the pectinate (or 'toothed') line, is the origin of several diseases in the anal canal. For instance, anal fistulae, abscesses and anal tumours occur in this area.
Other anal disorders covered by proctology are haemorrhoids, anal and rectal prolapse, skin tags, anal fissures (tears in the mucosa), coccygeal fistula (pilonidal sinus), anal incontinence, genital warts (condylomata acuminata) and anal skin problems (anal eczema). Find out more
Surgery on the female reproductive organs
Surgical gynaecology covers interventions on the female breasts, womb, ovaries and vagina. These interventions may be necessary due to benign growths (e.g. fibroids, ovarian cysts, endometriosis and mucosal polyps), prolapse (e.g. uterine or bladder prolapse) and its effects, or due to precancerous or malignant growths. Operations on the lower abdomen are usually carried out via laparoscopy (minimally invasive or keyhole surgery).
Aesthetic and reconstructive surgery
Plastic, reconstructive and aesthetic surgery comprises both the reconstruction of areas of the body, e.g. after accidents or tumour surgery, and cosmetic surgery.
Breast cancer is the most common type of cancer in women, with around 6,000 cases being diagnosed in Switzerland every year. As well as chemotherapy and radiotherapy, surgery is also used in its treatment. The breast is removed in around a third of cases. The skin covering and/or nipple can often be retained. At centres like ours, every woman in this situation is offered breast reconstruction. Breast reconstruction often contributes to the patient's quality of life following or while living with breast cancer.
Women with a genetic predisposition to or family history of breast cancer (e.g. the BRCA 1/2 mutation) often decide on mammary gland removal and reconstruction in order to reduce their risk. Find out more (in German)
Breast enlargements, reductions or lifts are very commonly performed. They help many women feel better about their bodies. Find out more (in German)
We would be happy to advise you, even if you have already had surgery on your breasts. Find out more (in German)
The face is very exposed to external influences such as the sun's rays, and is the area where skin changes or tumours most commonly occur. Treatment of these, and reconstructive/corrective surgery following their removal, is one of our specialities in collaboration with dermatologists. Find out more (in German)
We also offer rejuvenating facial treatments (wrinkle treatment, firming, restoring volume, regenerative treatments). Find out more (in German)
When you lose weight quickly, you are often left with excess skin on your body. After pregnancy many women are bothered by a weak abdominal wall, and sometimes by a persistent gap between their vertical stomach muscles (diastasis recti). Corrective and firming treatments for this are part of our range of treatment. Find out more (in German)
Surgery on the heart and chest cavity
Cardiac and thoracic vascular surgery involves the invasive treatment of acquired diseases, injuries or malformations of the blood vessels in the chest cavity (thorax) and heart. The operations we carry out most frequently include bypass surgery, valve surgery, and replacement of the aorta, which can usually be carried out by minimally invasive methods. Highly specialised interventions such as heart replacements and heart transplants are only carried out at university hospitals. This also goes for the care of congenital heart conditions.