At the end of treatment, a precise programme of consultations and follow-up examinations is offered to each patient. This monitoring is normally carried out by the oncologist and gynaecologist who have followed the entire course of treatment. The patient's attending doctor is kept up to date at each stage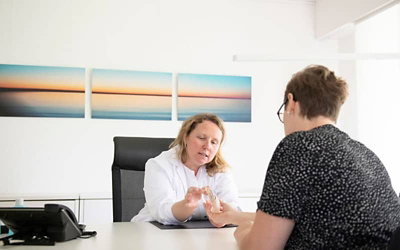 The frequency of follow-up consultations reduces progressively: As a general rule, an appointment is scheduled every 3 months for 2 years, then every 6 months for 3 years, and finally once per year. This follow-up plan is tailored to the patient's specific needs based on his or her treatment history. 
A mammogram and ultrasound are scheduled each year following the end of treatment; although some cases call for magnetic resonance imaging (MRI) instead.

Two breast cancer nurses are available to patients throughout the medical follow-up. Support from a psychologist and a specialised physiotherapist may also be offered where needed.

Reconstructive surgery
Reconstructive surgery may be offered, depending on the need for surgery and each patient's choice. The time period after treatment can be the best time for this step, which is vital for a patient's body image and profile. In this case, a consultation with the plastic surgeon is organised to determine the type of surgery. The duration of the intervention and the duration of hospitalisation depend on the reconstruction selected. Of course, the breast cancer nurses are always there to support each patient during this additional stage.